School Council/Action Squad
Our School Council meets every week, and their work contributes to our decision-making process as a school. The councillors represent their classes, and must ensure that they represent the full range of opinions well at the meetings.
We have renamed our School Council 'The Action Squad' as it emphasises the importance of being proactive. We have also decided to focus on environmental issues this year as it is so topical and relevant to the children of today.
These are the Councillors elected in Autumn 2021:
These are our rules:
Class representatives will report back to their class after every school council meeting
Class representatives will take issues brought up by their class to the School Council. They will put across the views of their class, not their own opinions.
If a Councillor wants to talk at a meeting they must put up their hand
Responsibility of teachers:
Teachers will make sure that all classes have a circle time for Class Council. This is when minutes from the last meeting are shared and new matters discussed by the class.
Find out more about our work below.
Autumn 2021
After electing new Action Squaders, their first job was to re-brand our houses. The whole school came up with a selection of possible categories for house names such as authors, famous people, artists, trees, landmarks and rivers. The Squad then whittled these down to a short list and put it to the vote in their classes. Rivers was the most popular category. A short list of names was then compiled, put to the vote again and the Squad announced the winning names in Assembly. The new names for our houses are as follows...
Arrow, Wye, Avon and Severn
(The children disregarded Teme as it was decided that we are all in Team Teme!)
26th November
The Squad presented their ideas for the Santa Dash to the school and asked that they discuss ideas for the last day of term, ready for next week's meeting.
24th November
The children were sorted into their houses in the Sorting Ceremony.
22nd November
The children discussed whether they wanted to organise a Santa Dash and pooled ideas for the last day of term before Christmas.
Spring 2 2020
5th March
Not only have the Action Squad been busy showing around candidates for the Head Teacher post, they have also been busy this term planning a fundraising event for Sports Relief. They have decided on an Exercise-a-thon and presented their plans to the school today in assembly.
Spring 1 2020
The Action Squad have nominated 2 children from Year 5 to join the Squad.
A list of New Year Eco Resolutions has been compiled and will be presented to the School next week.
Autumn 2 2019
The Christmas Fun morning organised by the children was a huge success with everything running smoothly and a great time had by all.
The cake sale, organised to raise money for the Young Voices Concert trip raised about £90.
This term the Action Squad met with one of the children's grandmother to organise the recycling of empty crisp packets and we have already sent off our first box full.
Autumn 1 2019
15th November 2019
Today the Action Squad organised a fund-raising event for Children In Need. All the chidden came dressed as spottily as possible and even dressed their teddies for a Best Dressed Bear competition. They raised over £100.
25th October 2019
Today the Action Squad delivered a presentation to the whole school during Assembly. Written by the Squad, it was entitled "Why waste is a problem" and was very well received.
4th October 2019
Today in Assembly, the Action Squad announced the new Freecycle board they have set up in the playground for families to use for unwanted items.
20th September 2019
Our presentation went down very well. Some children went straight back to class and took old pens out of the normal bins and put them in the special boxes!
19th September 2019
We had an extra meeting this week as we have discovered a company that can recycle all our old pens into new pens. We learnt that this closed loop recycling is the best kind. We made collection boxes for each classroom and practised what we would say when we present them in our whole school assembly tomorrow.
16th September 2019
We started to focus on the causes and effects of climate change and think about preparing a presention for assembly.
9th September 2019
We have renamed our School Council 'The Action Squad' as it emphasises the importance of being proactive. We have also decided to focus on environmental issues this year as it is so topical and relevant to the children of today.
The Squad began by discussing the amount of unnecessary waste generated by the lunchboxes our caterers supply. They came up with some ways around the issues and wrote to the company requesting some possible changes.
Spring 1 2019
The great news is that we have reached our total of £650 to send a cow to Africa. It's now time to elect a new School Council.
February 14th 2019
We organised a Friendship morning with lots of themed craft activities. We charged £1 to join in.
Autumn 2018
This term the school council have been working on our new fund raising project - Send a Cow. They organised an afternoon of craft, as the whole school made cow shaped money boxes to help save as much loose change as possible over half term.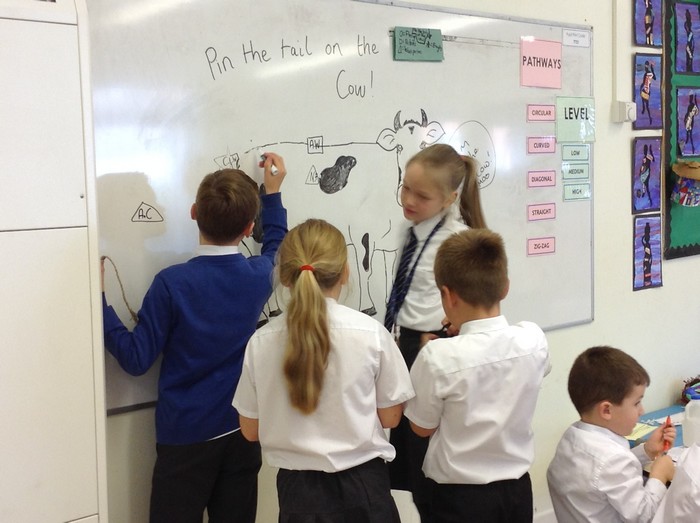 Spring 2 2018
9th May 2018
The Red Ted Cinema was a huge success, raising an amazing £93 for the Red Cross.
26th March 2018
We discussed possibilities for our next fund-raising venture for The British Red Cross and decided upon a Red Ted Cinema as the charity brings comfort to those in need and, for the children, teddies symbolise comfort.
The event will be held on Wednesday 2nd May.
5th March 2018
An amazing £775.95 was raised for NSPCC
Evaluation of Dance-a-thon:
Everyone was smiling and joined in.
The groups were a good idea as the younger children weren't scared to have a go and they were with their friends.
There was a good range of dances. Having the videos made it easy to learn.
Some of the sessions didn't finish promptly which made it difficult for the other groups.
Some children may have forgotten what we were raising money for.
The overall feeling was that the activity had been a success. It was decided that the Council would do an impromptu reminder in assembly today about remembering to bring back sponsor money on time.
28th February
The day of the Dance-a-thon!
Spring 1 2018
8th January
Today the Council evaluated the cake sale: what went well and what could be improved?
It was felt that much of the sale's success was due to the information being given out well in advance and repeated at regular intervals over several weeks. The 2 assemblies had gone very well and the children had worked well as a team.
An improvement to keep in mind for next time, would be to have more time to practise the presentations for the assemblies and to make sure that all of the Council have some lines to say.
The children drafted a 'thank you' note to the parents to go in this week's newsletter.
Autumn 2 2017
15th December
The cake sale raised £130.
7th December
The Council explained the next fund raising project to the School (a cake sale) and presented information flyers and posters, which have been pout up around school.
28th Novenber
The Council did a short presentation in Assembly, informing the school about Guide Dogs For the Blind.
17th November
The Council have chosen the next fund-raising project to be a Christmas Cake Sale. A date was chosen and the next few meetings planned out in terms of preparation.
13th November
The Council reviewed the event, discussing went went well and what could be improved next time.
| | |
| --- | --- |
| Successes | Improvements |
| The assembly was clearly understood. | There could have been more discussion in Class Council/Assemblies. |
| There was a wide variety of hats, hair and faces. | We need to give the children lots more ideas in discussions and on posters. |
| People gave money even if they didn't dress up. | We could have given people more notice of the event. |
| | We could have added a small competition. |
3rd November
The Hilarious Hat Day was a huge success, raising £75.
31st October
The presentation to the school during assembly went well, with each child contributing.
16th October
The Council wrote a short presentation for Assembly to advertise the Hilarious Hat Day. They also designed posters to put up around school.
9th October
It was decided after a whole school vote that the next fund-raising event would be a Hilarious Hat, Hair and Face Day. The Council chose the date of November 3rd.
25th September
The Council drew up a list of possible fund-raising events and will present these for a whole school vote on Wednesday during Class Council.
18th September 2017
The Council came up with a list of possible charities to support this year, then put them to a vote with the rest of the school. It was decided this year to split our fund-raising over 3 charities throughout the year, one per term. The charity with the most votes was Footsteps, supporting bereaved children and is a charity which some of our pupils have used. This will be our focus for the Autumn term. The other two charities were Guide Dogs for the Blind(Spring term) and the Red Cross (Summer term).
Spring 2017
24th April 2017
We compiled a questionnaire about bullying and feeling safe, which we will give to the classes next week.
5.4.17
The Talent Show was a great success with over half the school involved in performances. We raised over £70.
27.3.17
We shared assembly time with Mrs Allen and showed the famine video. This fitted in well with her assembly about giving things up for Lent - but what if you have nothing in the first place?
20.3.17
We found a video about the famine and watched it to see if it was suitable for the whole school to watch. Whilst it was shocking, the children thought it needed to be shocking to deliver the seriousness of the issue.
We emailed Mrs Allen the link and asked if we could use some of her assembly time.
13.3.17
It was reported that people are gradually signing up. There were 13 confirmed acts. A couple of acts had changed their minds but it was hoped they could be persuaded.
Auditions would be on Wednesday 15th March in Fledglings classroom. All members of the Council agreed to help.
It was agreed that Council would talk to Mrs Allen about sharing an assembly next week on the famine in Africa to raise awareness in school.
Council discussed possible prizes but have reserved making a final decision until seeing the full range of ages performing.
6.3.17
It was agreed that the assembly went well. There were no questions from the audience, which must have meant the information given was complete.
It was reported that Woodpeckers were very excited and that about half the class wanted to do it. Eagles and Robins were positive too.
Council decided to change the time of the show to the morning at 9.30 in order that it is not rushed.
A Sign-Up sheet and a poster were produced and it was promised that certificates would be made by the Eagles members.
28.2.17
The Council announced the Talent Show to the whole school in assembly.
27.2.17
It was agreed that the School Council would do a short piece in assembly to announce the Talent Show.
13.2.17
We thought about the organisation of the Talent Show.
We agreed to charge £1 per entry and 50p to watch.
There would be various categories...comedy, dance, singng, music, sporty tricks, magic and random talents.
30.1.17
We looked at the UNICEF website and decided to focus on the famines in Africa, particularly Sudan and Ethiopia, for our next fund-raising event - a talent show.
23.1.17
The new school council met for the first time and drafted a piece for the weekly newsletter about themselves.
16.1.17
As it was this Council's last meting we reflected on our months in office.
"Doing assemblies is a good idea. It's nice to have the information in person, as well as in a letter."
"I like working as a group and putting our ideas together."
"I liked fund-raising. It meant we could spend time together as a whole school."
Advice to the next Council:
"Work together and be jolly. Be grateful for other people's ideas. Don't make it all about you. Share the jobs. When you make decisions, make sure there's a variety of things to suit everybody."
Why being a Councillor is good:
"You get a lot of experience of working in a group."
"You have some control."
"You're listened to."
"You get to organise things."
"You get to help people."
"I was scared at first, but now I'm really pleased I did it!"
11.1.17
The School Council organised a film afternoon and encouraged the children to bring in a blanket to snuggle up with in order to remind them of the Blanket Appeal that the charity is organising. At £1.50 entrance fee, it meant that for every 2 children who watched a film, one blanket could be bought for the children of Syria. The children were also keen to come in their pyjamas!
"That was the best afternoon ever!"
We began the year with a fun raising event for UNICEF with a focus on the crisis in Syria.
9.1.17
The School Council did a presentation in Assembly to raise awareness of the situation and let the children know about event.
Autumn 2016
10.11.16
Our Run to Haiti event was a huge success on Thursday with the whole school getting involved. Our aim was to run 700 laps of the village playing field and we managed over 900. The children loved it and did the school proud - as usual!
"It was something everyone could do - not just a couple."
"I was really happy when we announced the results."
"Everyone got involved - no one gave up, they just kept going. We broke our target because everyone chipped in."
We raised £108.30
.
9.11.16
We gave an assembly to the whole school about the fun run to remind them why we were doing it and what the children needed to remember to bring.
8.11 16
We planned our assembly for Wednesday.
31.10.16
We discussed the Fun Run and worked out a representation for the distance from here to Haiti. We made a list of things we needed to remember to take for the fun run, agreed to put a reminder in the newsletter this week and give a short assembly next week to the whole school to promote the event.
3.10.16
Today we had an extra meeting to compose a letter to the parents about the Fun Run, which will take place after half-term.
10.10.16
This week we discussed the list of possible fund-raising ideas and voted for 2 that we thought we would be able to organise quickly to get our fund-raising started. So...
shortly after half-term we will be doing a Run to Haiti event, followed a few weeks later by a Clifton Cinema afternoon.
We hope to send a letter out to parents about the fun run by the end of this week.
3.10.16
UNICEF was the winning charity.
Today we wrote 2 letters, 1 to UNICEF and the other for our school newsletter, copies of which are below.
We are currently canvassing for fund-raising ideas for our classes.
Hello UNICEF,
We are the children from the School Council of Clifton-upon-Teme Primary School and we have had a school vote to decide which charity to support this year. You are the lucky ones! We would like to know if one of your members could join us in an assembly to tell us all about the work that UNICEF do around the world. We would also like some ideas about how to raise money for you and what projects we could support.
We are looking forward to our teacher receiving a reply from you shortly.
Yours Sincerely
The School Council of Clifton-upon-Teme Primary School
From The School Council
We are so lucky in Clifton but others in the world are not as fortunate as us. The world is a dangerous place where millions of children are suffering and dying unnecessarily. This is wrong and it has to change.
Last week the School Council organised a school vote to decide on a charity to support this year and UNICEF have been chosen.
UNICEF focus on five big dangers children face in the world today:
Their mission is to reach every child in danger to make a safer world for the children of tomorrow.
We are thinking of ideas for fund-raising and will let you know when our first fund-raising event will be We have decided that 75% of the money raised will go to UNICEF and the rest will be used in our school.
For further information on UNICEF please go to www.UNICEF.org.uk
26.9.16
Choosing a charity for the year:
School Council looked at and discussed 5 possible choices for a designated charity to support this year. All had a global theme - UNICEF, CAFOD, WWF, Wateraid and United World Schools. After much debate, 2 were chosen (UNICEF and United World Schools) for the council to take back to their classes and have a further debate and vote on. We await the result with interest!
19.9.16
We discussed the rules for School Council and talked about the whole school art day, the details of which School Council will feed back to their classes.
Spring 2016
16.3.16
Mr Hurley led the meeting today as he came as a representative of the Village Development committee to explain about the project. He asked the children to canvas the school about their views on developing the village over the next decade and will return next week to see how they got on.
He also asked them to find out what percentage of the recent sports fundraising monies the children wanted to donate to Sport Relief.
24.2.16
Today the children collated all the suggested questions for the Sports 4 Schools event and decided on the most appropriate. They presented these to Rich Parker on Friday who commented that he had never known a school so organised and children so polite!
How long does it take to learn a trick? It varies between a month and 4 years!
Do you ever get nervous? Yes - before the start of a new tournament or learning new tricks.
Why did you choose this sport? It was fun and I realised there was a future in it for me.
What advice would you give someone wanting to take up the sport? Take small steps and learn the basics really well first.
How many people do the sport? Just a small number. There are 40-45 professionals world wide.
How did you get into the sport? I tried a friend's skates.
Have you ever had any embarrassing moments? In Bulgaria I walked across the grass and had to change my skates 5 minutes before the competition started.
Have you ever invented a new move or trick? I was the second person in the world to do 2 tricks in one and variations of moves are my own.
How do you win? The scoring is similar to diving.
Have you ever wanted to quit? Yes - a bad fall tested my dedication. Also the time travelling to and from events and to a decent ramp takes hours and hours (3hrs round trip for a ramp).
What is the first trick you ever learnt? Jumping off a curb, 1/2 turns, ramps and 360 turns
What countries are our main rivals? Japan. There are 2 brothers of similar age in a school there.
10.2.16
The School Council presented the Sports 4 Schools event to the whole school during assembly time, answering questions and enthusing their audience in preparation for the big day!
3.2.16
The School Council are currently working on a presentation to deliver in a whole school assembly concerning the Sports for Schools project.
3.2.16
The council were asked for their views on the increased expectations across school concerning presentation. They considered drawing margins a nuisance and using a ruler wasn't always easy. They preferred erasers to a mistake being struck through as they thought it looked neater. Whilst coping with handwriting during dedicated handwriting sessions they felt it wasn't always easy to maintain the standard during normal lessons. They all agreed they needed more practice and it was agreed that the teaching staff would be asked to make Handwriting into a regular session.
12.11.15
The results of the questionnaire are as follows...
How many in the class have school meals?
6+11+8+3
Why do you have schools meals?
It's convienient.....There are nice choices....They make you strong and healthy.
Why don't you have school meals?
It's easier to make a packed lunch...It's too expensive...Peer pressure...I don't like them
What is your favourite main course?
jacket potatoes...sausage casserole...meatballs...chicken
What is your favourite pudding?
Blueberry muffins...raisins...banana cake...crumble
What is your least favourite main course?
Vegetable soup...sausage casserole...meatballs...fish fingers
What is your least favourite pudding?
Yoghurt with bits in,,,cheese and crackers...apple crumble
Does the website have a good description?
Yes, but photos would be good.
No.
How can we make lunchtime in the hall even better?
Music...leave as soon as you have finished...be quieter..more seats so Eagles can sit together...every few weeks have a treat meal such as burger, pizza or fish and chips...lunch buddies.
5.11.15
We made a questionnaire about the schools meals to ask our classes.
7.10.15
The Green Flag report
Children met with the assessor today to see if we had met the criteria for our 6th Green Flag
" I thought she would be old but she was really nice and bubbly and fun."
"At the start we all waited for each other to talk but then we soon got confident; we were a bit shy but she made us feel comfortable."
"She listened really well to our ideas; she let people talk and gave them time."
"First we showed her the area with the train from the garden project and explained that we had used logs from trees from the school grounds. We explained about using plastic bags to make the kites and showed her the bug hotel that Whizz Kids had made."
"By the forest area we showed her the hedgehog hotel that Billy and Toby are making for Spike, the hedgehog we found last week."
"We explained about how we are letting the willow grow to make it into a tunnel and showed her the bugs under the bits of carpet by the trees."
"She asked us what we were going to do with the apples from the tree so we explained about making apple turnovers for Harvest Festival."
"In the KS1 area she looked at the flowers and tomatoes and we gave her one of the wild strawberries. She said it was lovely!"
"After showing her the plant containers Gardening Club had made, we took her to the front and showed her the raspberries, the bird feeders and the bat box. After that we went inside."
"She was very impressed with the new school menu and the local food. (It's great that Roger took photos of our potatoes and he's going to put them on his website then cook them for us!)"
"We looked at the Garden Project display and she asked us if we knew the names of the butterflies we had made – and we did!"
"She tried to catch us out by asking about Fair Trade but we all knew! We explained that farmers get paid the right amount for the stuff they grow. Some farmers don't get enough so it isn't fair. Then she asked if we knew of companies that didn't use Fair Trade and we did! – Cadburys!"
"When she asked about energy Eagles knew lots of the answers as we had done it in Maths and we explained about the solar panels and how we changed the taps so they turn off by themselves and about all the double glazing we've got now."
"We looked at the wildlife books and told her about when we find something on a leaf like a caterpillar we can come and see if we can identify it."
"Woodpeckers told her about the Rain Forest project and about saving 3 bits of it by raising money."
"She really liked the photos of the Oxfam bag collections and we told her about Ragtex and how it goes to make other stuff to take to Africa and we showed her the compost bucket in Fledglings Class where they put their fruit waste."
"It was great when Mrs Williams came to tell us we had won the award. We all cheered then we gave 3 cheers for Mrs Williams too. It was great! We definitely want to do it again!"
23.9.15
"We talked about which fundraising things we are going to do for raising money for the coaches for Young Voices.
Some of our ideas were...
A PJ Day
A cake and biscuit sale
A Halloween Party
We are going to ask our classes for more ideas before we decide."
30 9 15
We talked about more ideas that the classes had given us and decided on...
a sports tournament

a bleep test

a dressing up day

a fun run

apple bobbing
We also talked about the Green Flag assessment day next week as we will be representing the school with the assessors.
Spring 2015
The Council have been instrumental in the construction of an engine for our RHS School Garden project. Having chosen suitable logs from diseased trees felled on site, they oversaw the cutting of the wood by Mr Hurley. The Council are now canvassing their classes for a suitable name for the engine. Watch this space to see what they decide! ... Elgar 1
The Council wrote to Sir Anthony Winnington, the soon-to-be high sherrif of Worcester, inviting him to vist school.
The good news is...
Sir Anthony is coming on Thursday 16th April!
Autumn 2014
The Council considered options for fund raising ideas for the RHS School Garden project and came up with the following...
a hot dog sale and film
dress up as something from the garden
create a dream garden on a plate
a fun run
a vegetable sculpture competition
a wellie wanging competition.
After consulting with their classes, the Council decided on the following events...
Monday 15th December
a hot dog sale and film
Christmas dress up
All for £1.50
Wednesday 14th January
dress up as a vegetable
vegetable fun run
wellie wanging competition
All for £2
We had a great day - see photos
here.