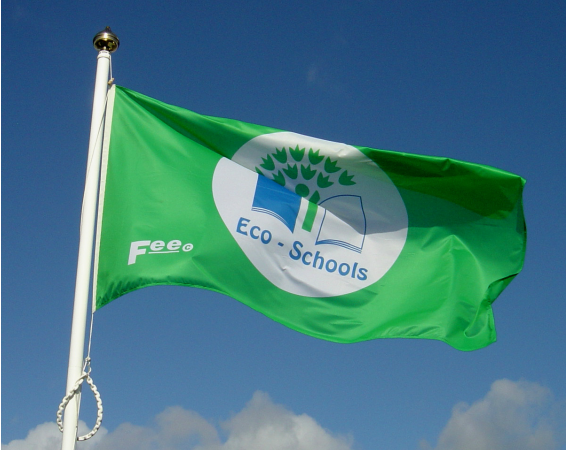 Eco- Action At Its Best! - We have been awarded our 8th Eco Flag!
FANTASTIC! WELL DONE EVERYONE
The Action Squad would normally meet each Monday to discuss and plan Eco activities on how as a school we can be involved in the local and global community. The Gardening Team meet each Tuesday after school.
AUTUMN TERM 2021
We were asked to decorate a tree for the local church as part of the community and also to decorate this free standing Tabloid at the front of the church
MERRY XMAS EVERYONE
FINISHED PRODUCT - TWO FOR ONE
The leaves are starting to fall and the days are growing shorter but beauty is in the eye of the beholder and our school grounds look ready for an autumn ball. Below are some autumn snap shots.
New spring bulbs are ready to grow and late flowers from a mild autumn will provide nectar for bees.
Luscious rose hips and colourful hydrangeas, fabulous as dried flowers for in the home.
Food for the birds and habitats for security and long, deep sleeps.
New beginnings - Geranium and Lavender cuttings
A leaf litter habitat topped with primulas also recycled slate to assist the rain in watering these pots.
After our summer break the mindfulness garden has developed into a beautiful space.
MEET THE ENTHUSIASTIC GARDENING TEAM 2021
SUMMER TERM
Each week the school grounds are seen to be giving more and more to nature and of course as a school for us to take pleasure from. This is either from sitting amongst the flowers, sampling the ripening fruit or just taking a moment to ...
This is the wild flower patch which as you can see is full of colour encouraging wild life.
At the back of the image on the right we have a bank of yellow buttercups.
We have adapted a wider margin on 'NO MOW' around the school field and this is the result.
OUR MINDFULNESS GARDEN
Look at our Mindfulness area now. Lots of colour
It started with an idea and look at the results above.
REDUCE, REUSE, RECYCLE
Reusing a rotten seating area
An assortment of plants on the left and on the right a donation of strawberry plants
Everything is starting to grow and the strawberries have set fruit. I think it will be first come first served at breaktime where the strawberries are growing. I've noticed two, Yr 1 children have spotted the ripening fruit. Each day they investigate looking for a red one. Not long now girls!
Thank you
REUSING THE BASE OF AN OLD WATER BUTT
Putting in a pond - We used an old water butt base - Perfect
An escape route for passing animals should they topple in.
Repairing a fence from old fence panels
GYOP - GROW YOUR OWN POTATOES SCHEME
Sowing Potatoes from saved soil after ground works in school
SPRING 2021
Our Mindfulness Garden is really starting to take shape. Thank you to all children and staff for getting it this far.
AUTUMN 2020
It's time to clear the ground for our wilds flowers to re-emerge and for the pond to be ready for our spring guests, Newts.
Getting ready for action
BEFORE AFTER
Look what you can do with empty milk bottles
October Half Term. This area is taking shape beautifully. Work carried out at school left rocks which we have repurposed as part of the rockery. Fabulous effort gardeners.
Our new mindfulness area is starting to take shape. This is where we were at the end of September.
Click here to read all about the school fundraising
SPRING 2020
The gardening team have started to renovate this unused area so that in the following weeks a mindfulness garden can be created that incorporates a colourful flower bed at the front, a bench which has been offered to us upon completion for the children to enjoy outside lunchtime eating and behind this will be a wildflower bed with a new log pile habitat that is generated from some of the wood which will be removed in this area.
WINTER 2020
OUR, ECO - ACTION AT ITS BEST! - DISPLAY BOARD
The whole school have promised to SHUT THAT DOOR! during play times.
Also included in the list;
Switching standby lights off on electrical equipment
Turning lights off when leaving a room
saying NO to plastic straws
Not to use plastic bags
Walk to school where possible
Reduce cling film use on sandwiches
THANK YOU WOODLAND TRUST
Our gardeners spent two sessions planting 60 shrubs along the perimeter of the school field after a recent removal of established conifer trees on the neighbours garden.
THESE ARE LIVING IN AND AROUND OUR POND - NEWTS
The belly of a Great Crested Newt - A personal fingerprint
We have 3 species of Newt! It's official: we have Smooth Newts, Greater Crested Newts and Palmate Newts!
We say goodbye to the old and welcome in the new.
What could I be talking about?
Our new battery recycling point which will be collected when we require it. To start the school off, all the children were given a collection box to take home and when full to return to school for recycling in our new collection point.
Don't forget you can still take them to your local recycling point for your area also in major food stores where recycling points can be found in the stores.
OUR PROUDEST MOMENTS !
Malvern Spring Garden Show
WE WERE AWARDED A DISTINCTION!
From deciding to participate in May 2014 as a school and child led we went with the theme 'The Malvern Hills'. Above is the end result of many hours in school preparing for this event.