Welcome to Woodpeckers Class Page
Click here for our 2014-2015 archive.
Week of Inspirational Maths: March 2020
Last week, the whole school took part in our Week of Inspirational Maths, with a special Teddy Bear's Picnic theme! The aims of the week were to create an inclusive and encouraging platform in which we could challenge the children and help them think about maths from a different perspective. We also hoped to work together as a school on shared activities, and most of all, to have a great time and inspire them to love maths!
Each day, we explored a different aspect of maths, from fractions and correspondence problems, to patterns in nature and the Fibonacci sequence, to our whole school celebration event, where we put our mathematical skills to practical use and made a veritable feast for our teddy bear's picnic!
This is what some of our children had to say about the week:
Fledglings:
'I like Nifty Numbers and putting 12 legs to the picnic. It was a bit tricky'.
'I Iike making drinks for the teddies' (relating to correspondence tasks)
Robins:
'I liked the different combinations lesson because I liked the challenge of finding all the different combinations'.
'I liked the sandwich game because it was nice to work as a team and practise my fractions'.
Woodpeckers:
'I learned that when you make mistakes your brain gets bigger!'
'I really enjoyed the Fibonacci numbers because it was fun and challenging and I learned that maths occurs in nature'.'.
'My favourite bit was the teddy bear's picnic because we did lots of cooking'.
'I really enjoyed learning about patterns with the Eagles'.
Eagles:
'I enjoyed making the pizzas because it was fun cutting them up'.
'I enjoyed figuring out the patterns and combinations'.
'I found the fractions hard because they made me think'.
'I liked doing the Fibonacci sequence because we made a special guest'.
Art and DT: Egyptian mummies and sarcophagi. December 2019
As part of our Egypt topic Woodpeckers class have spent all term designing and making their own mummies and sarcophagi. This was an immensely time consuming task, which required great patience and perseverance. We started by spending time learning about mummification and the journey to the afterlife. We then designed our mummies, spent several weeks drawing them on felt, cut them out, sewed them together and finally stuffed them!
We then moved onto the sarcophagi. We had to research sarcophagus designs, and what the various symbols meant, for example, why there was an eye carved onto the side (so that the mummy could see out!)
We covered cardboard shoeboxes in black paper, then used pastels to draw the various pictures and symbols onto the top and sides. Finally, we used glue to stick on sequins and beads to represent the precious jewels found on the outside of real sarcophagi.
Woodpeckers have worked extremely hard on this project, and used multiple DT and artistic skills;not to mention our school values!
Very well done Woodpeckers, you never fail to make us very proud indeed.
PE: Dance. December 2019
Woodpeckers class have been learning about ancient Egypt during the Autumn term, and have used the story of Moses as inspiration for our dance topic.
We choreographed a routine to the song, 'Deliver us', from the film The Prince of Egypt, which describes the birth of Moses, his journey down the river, and his discovery by the queen.
We had several different sections in this dance including self-choreographed small group, whole class, and individual, all punctuated by a repeated chorus.
Woodpeckers class have worked immensely hard on this routine, and at over 7 minutes long, it was not an easy task! However, they persevered, and have produced something absolutely splendid and professional. We are all very proud indeed of the children; well done Woodpeckers!
Deliver Us - website edit from Clifton upon Teme Primary on Vimeo.
RE- What do Christians believe about God? October 2019
This week, Woodpeckers class have been learning all about what Christians believe about God. We discussed the ideas of God as love, as a parent, as creator and as light- remembering what we learn in our 'Open the Book' assemblies, that 'Jesus is the Light of the World'.
Thinking about God as Light, we studied the stories of Moses and the burning bush, and St Paul being blinded by the light of God. From these stories, we were inspired to create 'fire collages'-and the results were absolutely beautiful, and very moving indeed.
Year 3/4 dance festival: October 2019
On Tuesday 1st October, Woodpeckers class went to the Chantry High School to attend the annual Dance festival. This is always a highlight of our sporting calendar and this year was no different.
We took part in three different dance workshops; Rock and Roll, Street Dance and Pom dancing. Each dance presented its own challenges, and the Street dance in particular was extremely fast paced, but the children focussed beautifully and really concentrated throughout, and we were exceptionally proud of each and every one of them- what a way to model the 'Clifton Way' when out of school!
Thank you as always to the Chantry staff and fantastic Young Leaders (many of whom we recognised from their time at Clifton primary!) for putting on a once again superb event.
Stone Age pebble art: July 2019
We have been studying pebble art, and have been inspired by the way the artists create images out of items they have found or foraged. We felt that this was a very Stone Age way of creating art, so used items in the playground and the forest school area to create our own masterpieces-and the results are fantastic!
Bishopswood: June 2019
On Wednesday 26th June 2019, Woodpeckers spent the day finding out about life in the Stone age. The morning was filled with lots of exciting activities including hunting and gathering, house building, flour grinding and fire making! We discovered that life in the stone age would have been very hard.
In the afternoon, we had to work together to transport our tools to a new settlement, where we had the challenge of working in teams to produce a stone age shelter. Vicky our guide, was very impressed with our teamwork and co-operation. It was such an amazing day, and we all left Bishopswood thinking that maybe, just maybe, we could have survived in the stone-age!
Stone Age wagons-DT project. June 2019
As part of our Stone Age topic, Woodpeckers class researched, designed, built and extended their own Stone Age wagons! The project involved using a great number of skills, such as:
Safe internet usage (research)
3d labelled diagrams
Exploded diagrams
Safe use of saws
Accurate measuring
Construction of frames
Construction of axels
Consideration of how to make the cart sheltered and waterproof
Use of mod-rock
Use of various textile materials
Use of paint
Consideration and construction of 'extras' e.g. horses and weaponry.
This was the first time many of the children had used tools like saws, or had been introduced to concepts such as triangulation or axels, and they rose to the challenge beautifully. They have all created individual, varied and most importantly, working wagons-well done Woodpeckers!
Cooperation PE
As our value of the month is cooperation, we have been doing lots of team building exercises in our Wednesday PE sessions this half term. Last week, Woodpeckers completed a series of challenges on which the focus was team work.
We started with a trust game in which one or more members of the group were blindfolded.
Then we moved on to a puzzle race, where each team had to run and collect geometric puzzle pieces, then work together to put the puzzle together-not as easy as it seemed!
Finally, we had a scavenger hunt, where the children had to work in partners to find 20 items in the playground.
All the children engaged really well with the session, and worked cooperatively and collaboratively to achieve each challenge.
Gymnastics festival: May 2019
On Thursday 9th May, Woodpeckers class were given the opportunity to develop a wide range of gymnastic skills, including travelling, jumping and balancing. The event was organised by Chantry's Young Leaders, who did a wonderful job of encouraging the children to try their very best. All of the children enjoyed the challenge of learning new skill; below are a few comments made on our return to school.
" I enjoyed jumping off the different vaults." (Aleah)
" I really liked the gymnastics relay because it was so much fun when I kept rolling off the mat." (Freya)
" I loved balancing on the balance mats. It was tricky but fun." (Ava)
A special well done goes to Daniel and Aleah who were talent spotted during the afternoon.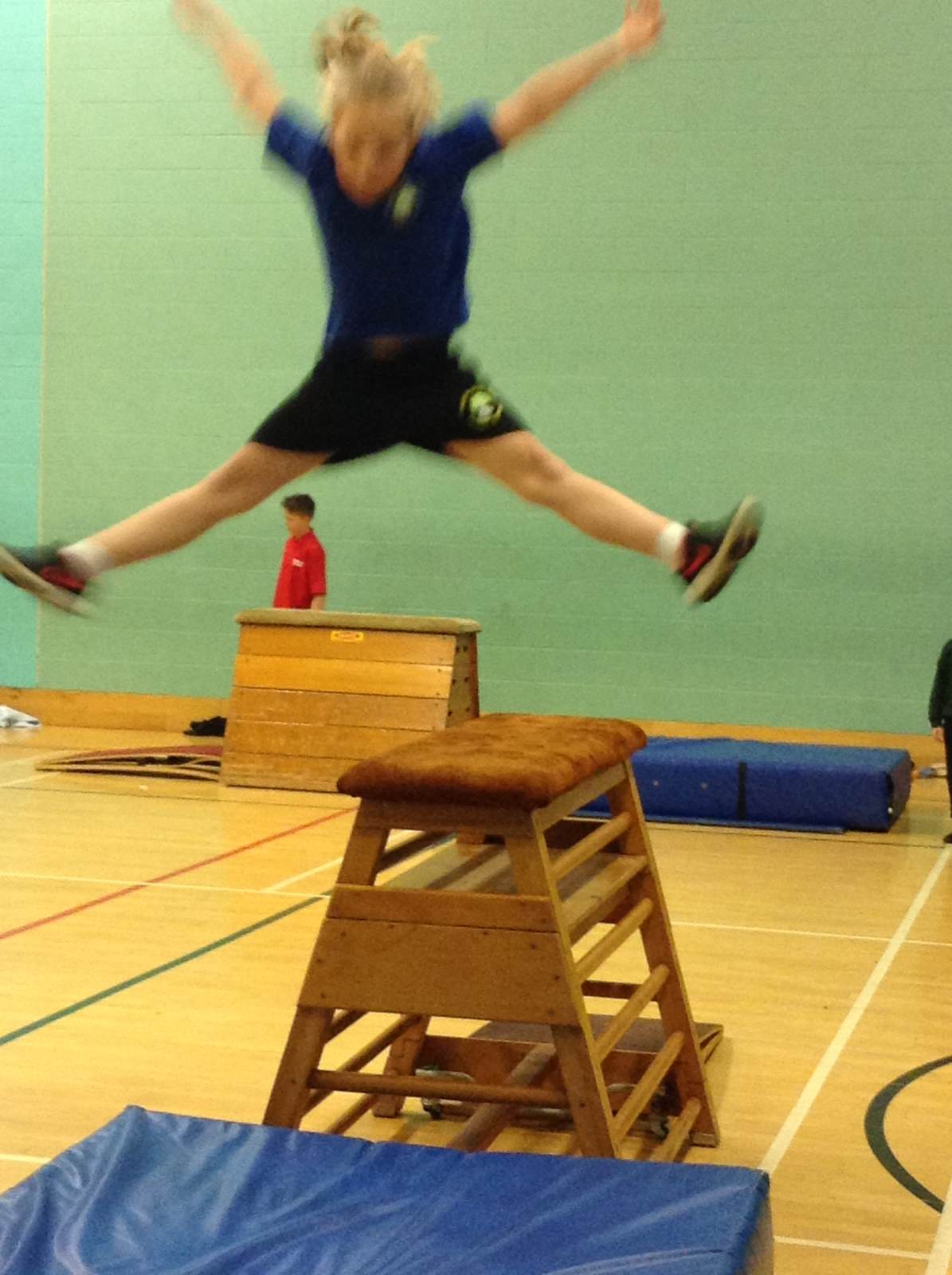 Cave paintings: May 2019
This week saw the start of our new topic 'Welcome to the Stone-age', one of Mrs Allen's favourites! Today, the children made stone-age paint using mud and charcoal, and used sticks to create their very own cave drawings. Mrs Allen made it even more tricky by getting the children to draw on sandpaper. It was rather tricky but the results were very authentic. Fantastic work.
Tag Rugby Festival: April 2019
On Thursday 28th March 2019, 9 children from Woodpeckers class travelled to Chantry school to take part in a tag rugby festival. For some children, it was their first time competing against other schools and they were very excited.
There were 8 schools and each school were to compete in two leagues. The winners of each league were to play each other in the final. Clifton were to play Astley to start with, and the nerves were obvious. However, the more experienced children led by example and their knowledge of the game helped them to take the lead. By the final whistle, the score was 4-2 to Clifton. What a display of rugby skills and sportsmanship!
Next up was Broadwas, and again the children worked well to attack and defend. The final score was 5-3 to Clifton, and they were finally looking more confident.
The last game of the league was against Great Witley. By know the children were in their stride and nothing could stop them from scoring! The final whistle went once again and the score was 6-1 to Clifton, what an amazing team!
As Clifton had won all their league matches, it was announced that they would be playing in the final against Martley, the winners of the second league. What an exciting match it was, there really was nothing in it. Martley scored first, then Clifton worked hard to equalise. Martley went on the attack again, and it was 2-1 to Martley. Clifton fought back once again to make the score 2-2. It was anyone's game as both teams gave their all, but with moments to spare, Martley scored again. The score was 3-2 as the final whistle went, and although disappointed with the score, Clifton gave Martley a huge cheer of congratulations. What amazing sportsmanship.
Well done to all who represented Clifton, they made their teachers very proud. Harry Lane was talent spotted for his rugby skills, but everyone demonstrated amazing talent and sportsmanship. I would also like to say a huge thank you to the parents who supported the children, their positive and encouraging comments really made all the difference. Thank you.
Orienteering: March 2019
As a way of introducing map reading skills, we challenged the children to create and complete an obstacle course using an ariel view map. They also had great fun using symbols and a variety of equipment to create some very funny faces. It was such good fun, and gave the children opportunities to work cooperatively as well as independently. Well done Woodpeckers!
.
Walk around the village: March 2019
As part of our new topic, Britain from the Air, Woodpecker's class went on an educational walk around our locality. We identified and discussed local landmarks, took lots of photos and really appreciated the history of our village.
On our return to the classroom we then created Bird's eye view maps of the village. All this research has really been helping us write our Clifton Upon Teme information texts, and has also inspired our DT landmark sculptures-watch this space for the finished products!
Valentine's Day fundraiser: Feb 2019
To celebrate Valentine's Day and to raise money for our nominated school charity, Send a Cow, Woodpeckers joined the rest of the school for friendship themed arts and crafts. The activities were great fun and all centred on friendship. We managed to exceed our £650 total and can now, quite literally, send a cow to a poor family in Africa. Woodpeckers had a fantastic morning, and really worked as a team, both to decorate our school hall and raise lots of money-well done everyone!
Mayan Feast
On Wednesday 19th December, Woodpeckers prepared a Mayan feast to finish off our rainforest topic. We made dishes using ingredients that are indigenous to South America, including Guacamole, salsa, tortilla chips and dark chocolate. We also made horchata, a rice milk and cinnamon drink that tasted delicious!
We practised lots of maths and DT skills, including safe chopping, stirring and measuring, and it was a really fun way to end what has been a fantastic Autumn topic.
The Living Rainforest: Nov 2018
On Wednesday 21st November, as part of our rainforest topic, Woodpeckers class visited The Living Rainforest Museum in Berkshire.
We were amazed at the size of the plants, and fascinated to hear how they had adapted to life in the rainforest. We were particularly impressed with the carnivorous pitcher plant, that one of our group insisted could grow large enough to consume a human being!
We also loved looking at, and learning about, all the animals roaming wild at the museum-although Cinnamon the sloth proved sadly elusive...
Woodpeckers class behaved impeccably throughout the entire day and really represented our school beautifully. We are all very proud of them indeed; well done Woodpeckers!
Year 3/4 Hockey Tournament Oct 2018
On Thursday 10th October, a very wet and windy evening, twelve children from Woodpeckers and Eagles class took part in a hockey tournament at Chantry school, Martley. All the children were filled with enthusiasm and couldn't wait to get started.
The children were put into two teams, and each team had to play 4 matches to see if they were to make it into the playoffs. There were some very close battles, where lots of determination and skill were demonstrated.
After some fiercely fought wins, draws and a loss, both teams made it into the semi-finals. They were ecstatic! After two extremely close matches, both teams were unfortunately beaten. Although they didn't make it into the finals, the children were full of smiles; they had thoroughly enjoyed taking part.
They were all an absolute credit to their school in terms of effort, teamwork and behaviour, and I was incredibly proud of each and every one of them.
Year 3/4 Dance Festival: Oct 2018
On Tuesday 2nd October, Woodpeckers class went to the Chantry High School to attend the annual Dance festival. This is always a highlight of our sporting calendar and this year was no different.
We enjoyed three different dance workshops; Lindy Bop, Street Dance and Cheer leading-with Street Dance being a firm favourite among most of our pupils!
Thank you as always to the Chantry staff and fabulous Young Leaders for putting on a once again superb event.
Disgusting digestion: September 2018
This half term, Woodpeckers are learning about animals and humans, in particular, we will be looking at the digestive system and teeth. Today we carried out a fun but messy experiment, to bring to life how our digestive system works. If you would like to try it out at home, follow the link below.
Visit from Send a Cow charity representative: June 2018
On Monday 18th June, as part of our Global Learning African focus, we were lucky enough to have a visit from Mary, a representative of Send a Cow, a charity which raises money to help people living in poverty in Eastern Africa. Send a Cow raises money to provide these people with a female cow, which will then enable to the family to grow crops more easily, and have milk to drink and sell, which in turn helps the people to improve their living conditions, buy medicine for their children and send their children to school! We were all completely inspired by Mary's talk-watch this space!
For more information on the work that Send a Cow does in Eastern Africa, please visit: https://www.sendacow.org/
Worcester Warriors Tag Rugby Festival: June 2018
On Thursday 7th June 2108, children from Woodpeckers class excitedly boarded the coach which was to take them to Sixways Stadium. They were looking forward to taking part in a fantastic celebration of rugby.
On arriving, they were escorted to the 4-G pitches where they were to play some teams from schools across Herefordshire and Worcestershire. Woodpeckers were split into two teams, and each team were to play 4 matches. The games flew by, and the children did themselves proud by working as a team, encouraging each other and showing some fantastic rugby skills. Eddie B was talent spotted, and received a prize for his amazing speed and tagging ability.
Worcester Warriors Rugby: May 2018
This half term, Woodpeckers class have really enjoyed the opportunity to work with a Worcester Warriors coach to develop their tag rugby and mathematical skills. A huge thank you to Dave, who encouraged the children to achieve their best, and helped make Friday afternoons so much fun! We are now looking forward to the rugby festival after the half term break.
South African Pen Pal Project
This academic year, Woodpeckers class have started a pen pal project with Morning Star School in South Africa. This school is very different from ours, and we have thoroughly enjoyed learning from and about our new South African friends.
This project links with our Global Learning goals, and is allowing our children to learn about another locality, and is fostering a sense of global responsibility and citizenship. It is also immensely exciting and rewarding to send our letters and pictures all the way across the world to South Africa, and to receive post back in return!
This week, we finally completed our current package. In it, we have included letters, a hand made book about our school and village and the winning entries of our 'favourite food' competition, which is in response to a question our South African friends asked about what English children eat.
We have loved putting together this very special package to our friends, and will now eagerly await our replies!
Gymnastics festival:April 2018
This week, Year 5 Eagles and Woodpeckers class were invited to The Chantry School to take part in a festival which aimed to develop their gymnastic skills. They enjoyed a variety of activities, involving jumping, travelling, balance and rolling. All the children took part with an enormous amount of enthusiasm, and it was lovely to see them progress throughout the morning. As usual, the children were a credit to Clifton in terms of behaviour and achievements. A special well done goes to Jessie Ma, who was talent spotted for her wonderful skills and gymnastic ability.
Tudor cooking: March 2018
This half term, Woodpeckers class have been cooking Tudor recipes as our Design and Technology topic. Last week we made 'Sir Walter Raleigh's potato cakes', and this week we have been making 'Elizabethan Naughty Cake.
Cooking offers children to opportunity to work collaboratively, and to practise important fine motor skills such as chopping, rolling and mixing-all with some delicious food to look forward to at the end of the process!
Next week, we will be making Tudor gingerbread, using spices that would have been brought back to the UK from the West Indies by the explorers.
All three recipes are below:
Sir Walter Raleigh's potato cakes
Ingredients per table:
3 medium potatoes
2 cloves of garlic
½ pack grated cheese
½ pack breadcrumbs
dash of salt and pepper
First, very carefully peel and chop the potatoes into large chunks.
Then give to a teacher to boil over lunch-the potatoes will have cooled by the time we finish assembly.
Now, thoroughly mash the potatoes together until they have a smooth, creamy consistency-no lumps!
After that, carefully chop the garlic into very small pieces-use the bridge method!
Next, add the garlic, cheese, breadcrumbs and salt and pepper to the potato and mix it all together.
Then use your hands to create small, round patties- these should be flat and about 2 cm thick.
Finally, bake the patties for 15-20 minutes at 200°.
Enjoy your potato cakes-and raise a toast to Sir Walter Raleigh!
Elizabethan naughty cake
Ingredients per table:
100g softened butter
50g glace cherries
3 tablespoons honey
120g mixed fruit
100g mixed nuts
120g digestives
1 teaspoon mixed spice
Patiently mix the butter in with the honey until it has combined well.
Use the bridge method to carefully chop your cherries into as small pieces as you can manage.
Then, thoroughly mix together the cherries, fruit, nuts and mixed spice.
After that, use a rolling pin to carefully break up your biscuits and then add them to the mix.
Meanwhile, very carefully layer some cling film into your ramekin-make sure it is completely covered or you will not be able to get your cake out in the morning!
Penultimately, equally share out your mixtures into the ramekins.
Finally, leave in the fridge to set overnight-next morning you can enjoy your naughty cake!Gingerbread:
Preparation Time: 30 minutes
Cooking Time: 15 minutes
Servings: 5 cakes
INGREDIENTS
100g plain flour
60g light soft brown sugar
50g room temperature butter
1 medium egg
2 tablespoons of golden syrup
1 teaspoon bicarbonate of soda
1 teaspoon of ground ginger
COOKING METHOD
Pre-heat the oven to 180°C
Put the flour, butter, ground ginger and bicarbonate of soda in a mixing bowl. Mix it all together with fingertips until crumbly. Add sugar, syrup and egg and mix until it forms a firm pastry mix.
Using the rolling pin, roll out the pastry to about 5mm thick. Make sure the surface and the rolling pin are well dusted with flour. Cut out the shapes with a pastry cutter.
Place the cut out pastry on a greased or non-stick baking tray, each 2cm apart to allow for them spreading out.
Put the baking trays in the pre-heated oven. Remove after 15 minutes (check after 10 minutes)
Real PE: March 2018
Throughout this term, Woodpeckers have been developing skills of balance and control. Over the last few weeks, we have been working on core strength and have used seated balances to create a variety of shapes and sequences. It is hard work, but there has been a huge improvement in control and strength. Well done Woodpeckers!
Woodpeckers trip to Selly Manor: March 2018
On Tuesday 6th March 2018, Woodpeckers class visited Selly Manor in Bourneville, Birmingham, as part of our Tudors topic. Selly Manor is a real Tudor house, dating back to the 1500s!
First, we met our guide, Mary, and sat in the parlour (where they talked-as in the French word 'parle') to discuss what we already knew about the Tudors. Woodpeckers class made Mrs Quill and Mrs Kent very proud by recalling dozens of fascinating facts-mainly the disgusting ones!
After that, we went to the dining room and learned all about how the Tudors cooked and ate their food-and about the dangers of eating off a lead plate. We also discovered the origins of the phrase, 'That's too dear'-from deer skin cups in Tudor times, which were very expensive!
We then visited the kitchen, and realised how useful modern fridges are in keeping our food from going rotten-we decided we wouldn't have wanted to eat Tudor food, as it would have been mouldy before you even bought it home-yuck!
Our last room before we stopped for lunch was the bedroom. We found out that the Tudors had rooves over their beds to stop the rats snuggling in with them (this strategy did not actually work), and the other reason for building jetties-so the contents of a chamber pot would not fall on your head as you walked underneath someone's bedroom window in the morning!
We then stopped for lunch and a play before going back into the house and visiting the attic, where we discovered the mysterious 'priest hole', where catholic priests would have hidden to avoid execution by King Henry VIII's spies-fascinating but chilling stuff…
After we had completed our visit, we went into the main hall and the children got dressed up as Tudor children-they all looked so different! We then played Tudor games; quoits, diablo, juggling and 'getting the ball in the cup'-they were all quite tricky, but we tried really hard and managed to get the hang of most of them!
At 2pm, we transformed back into modern children, thanked Mary profusely for our amazing trip and got back on the coach for the one hour journey home to Clifton.
We had a fantastic time, learned loads, and had so much fun! Well done to Woodpeckers class for representing the school so beautifully-we are all very proud of you!
Super Science: February 2018
This half term, our science topic has been Forces and Magnets, and this week we had fun investigating magnetism. Mrs Allen gave us the challenge to make a paperclip hover in the air, just by using the strength of a magnet, It was quite tricky, but we managed it!
Watch our Egyptian Dance Video inspired by the story of Moses: December 2017
As part of their Egypt topic, Woodpeckers have been choreographing and rehearsing their own dance, to the opening song from The Prince of Egypt. This song describes the biblical story of Moses. It follows the plight of the slaves in Egypt, and one mother's heart-breaking decision to let her baby float away on the River Nile, rather than let him grow up to become a slave too.
Woodpeckers class followed the narrative of the song, and have acted it out through their own interpretative and choreographed dance. It took great patience and concentration, as well as several weeks of hard work to get to the finished product, and the results are fantastic to see.
We are all extremely proud of how hard Woodpeckers have worked on this PE topic, and how brilliantly they performed their final piece. Well done Woodpeckers!
Mummification DT project: December 2017
This half term, Woodpeckers class have designed and made their own felt mummies, and 'buried' them in their very own sarcophagi!
The children spent several weeks painstakingly drawing, cutting out, sewing and stuffing their mummies, before carefully wrapping them up in bandages.
They then moved on their sarcophagi. The children spent time painting patterns and hieroglyphics onto large pieces of sugar paper, which, once dried, were carefully cut into pieces and stuck onto shoe boxes. Finally, the children glued beads onto the sarcophagus lids, to represent the jewelled lids of the ancient pharaohs.
The very last step was nestling their mummies into their beautifully decorated sarcophagi.
The children showed amazing perseverance and patience in this project. In order to succeed, they needed to use several different design skills, including, cutting, threading a needle, tying a knot, sewing, gluing, painting, and many more! We are extremely proud, both of the finished products, and of our amazing class. Well done Woodpeckers-they look fantastic!
Super Skeletons: October 2017
During our recent science lessons, we have been finding out about the important jobs our skeletons do. Without them, we would be unable to stand up, bend or move, and our important internal organs would have no protection. We have also been making our own skeletons and have used Skitch on the Ipads to make comparisons between different animals.
Can you identify the animals from the skeletons below?
Big Art day: October 2017
On Monday 9th October, Woodpeckers class took part in a whole school Art day. Our focus was cross sections of various fruit and vegetables, in keeping with our Harvest theme. We started by learning about basic shading techniques, as well as the rules of 'draw what you see', and 80% observation:20% drawing. To begin with, we used only pencil, before moving on to coloured pencil.
We then moved on to investigating colour using paints. We spent some time on creating colour wheels, using only the primary colours to create the secondary and tertiary shades.
After that, we had a go at mixing colours to match given paint samples. We really had to focus on only adding a tiny bit of colour each time, and this activity really helped with our understanding of the subtleties of colour and paint mixing.
After all this preparation and hard work, we were ready for our final piece; a painted observational drawing of a fruit or vegetable cross section. We took our time and produced some wonderfully high quality, well observed pieces of art, and we were all quite rightly very proud of what we had achieved.
Very well done Woodpeckers!
Year 3/4 Quick sticks Tournament: October 2017
During this term, Woodpeckers class have been enjoying developing their hockey skills in P.E lessons. This week, 6 children took part in an after school tournament which put these skills to the test.
The sun was shining as we waited to start the tournament, and all six children were excited and raring to go. The first match was against Astley, and it was a battle from the very start. William scored a fantastic goal which would have taken us into the lead, but unfortunately it was disallowed as he hadn't played the ball within his own third. Clifton continued to play well, forcing Astley to defend to the best of their ability, and the match ended in a 0-0 draw.
The children played a further three matches, resulting in a loss against Martley, but two wins against Broadheath and Grimley. We then had to wait to see if we were through to the next round. All the teams were gathered together, and cheered each other when we heard the results. Everyone had played really well and it was a delight to hear we were to play Abberley in the semi-finals.
The five minutes flew by as both teams tried their very best to score the first goal. Eventually it was Abberley who made it through the Clifton defence to go into the lead. Clifton worked hard to equalise but Abberley were able to sneak through and score a second goal before the referee called time. We congratulated Abberley and wished them well in the final.
As always, the children showed their Clifton values through determination, perseverance and team spirit. It was a pleasure to watch them play with such enthusiasm and encourage each other through each new challenge. Well done Clifton Harriers, you are all winners in my eyes!
Dance Festival: September 2017
Woodpeckers class had a brilliant time at the cluster dance festival at the Chantry school last week! We enjoyed workshops in 3 different areas of dance: cheer-leading, street dance and Bollywood, and then we cam together at the end of the morning for a celebration dance in front of all the other children and teachers. We would like to thank the staff at the Chantry and the Young Leaders for organising such a fun morning!
Moving up morning: July 2017
On Tuesday 18th July, our new class had their first morning together. We started our Autumn topic of Ancient Egypt with two brilliant activities; the first was making Egyptian biscuits, using a recipe that is thousands of years old. The children worked together really well, and the finished products were delicious!
After break, we learned about Ancient Egyptian amulets, and how the wearer believed that they would bring them luck. We made salt dough and then used the salt dough to create our own amulets, that we will paint in September. Hopefully they will bring us luck all year long!
Mrs Quill and Mrs Allen loved getting to know our new class. The children all behaved beautifully and cooperated well, and we very much look forward to teaching them all next year.
Have a wonderful summer, everyone!
Bishops Wood trip: July 2017
On Tuesday 4th July, Woodpeckers class visited Bishops Wood in Stourport-on Severn to consolidate our learning about life in the Stone Age.
Learning in a practical setting really brought the Stone Age to life for us all, and we learned lots of fascinating facts, like how they used to move around when they had eaten everything in a particular area; this lifestyle was called Nomadic.
We spent the morning shelter building, mammoth hunting and cave painting, then in the afternoon we hunted and gathered, wove nets, crushed seeds to make flour and even made fire!
The children were so excited and loved every second of our trip. They represented our school beautifully and we are very proud of them.
Baking Stone Age Rock Cakes: June 2017
As part of our Stone Age topic Woodpeckers class made rock cakes today-a slightly tenuous link perhaps, but there is evidence that during he Mesolithic period early Homo Sapiens were farming crops including wheat, which they ground into flour and cooked into a flat, oaty bread. Not only will our cakes make us think of early Stone Age bakers, but they are ROCK cakes-so very relevant to the Stone Age!
Cooking together allows us to use several of our school values such as cooperation, respect, quality, responsibility and perseverance for when things might not go our way.
The step-by-step nature of following a recipe helps build children's comprehension and reasoning skills. Children practice patience, follow directions, enhance their creativity, and build self-confidence.
Cooking experiences also build children's knowledge and skills in science, maths, reading, and communication.
Making Stone Age nettle string: May 2017
As part of our summer topic of the Stone Age, Woodpeckers class have been making nettle string!
First, we carefully picked and stripped the leaves off the nettles, using two pairs of gardening gloves to protect our hands. Then we rubbed them until all the poisonous hairs were removed. After that, we cut the heads and roots off and left them to soak in water overnight; this removed any last sting from them and made them safe to handle without gloves.
The next afternoon, we bashed them with a rock to split them open, then removed the pith by cracking it and pulling it out, leaving just the strong nettle fibres. We then twisted a few fibres together to create cordage. This part was rather fiddly, but we persevered and were all able to make some strong string of which a caveman would have been proud.
The children worked really cooperatively together, and I think we all have a new found respect for the skills of Stone Age men and women!
China open afternoon: February 2017
It was really lovely to welcome parents to our open afternoon today. The afternoon began with a Chinese song, which the children performed with their own actions. The children then had the opportunity to share their learning with their parents before enjoying a tasty snack of spring rolls, prepared by the children earlier in the day. Then it was time for something a little sweeter, as fortune cookies were passed around with messages from the children inside. The afternoon ended with a session of Tai Chi, where both children and adults enjoyed performing together.Thank you to all the parents who came, we hope you enjoyed it as much as we did!
Fantastic Fire Engine Visit:January 2017
Today, Woodpeckers had a lovely surprise to end the week. Firefighters from Bromyard station visited in their engine and invited us to experience life on board. The children loved trying on the uniform and asked some very interesting questions. Many thanks to the team who seemed to really enjoy the enthusiasm of the children! Thank you Mrs Fisher, for organising the visit.
Introduction to China day: January 2017
To begin our new topic of China, Woodpeckers class spent the whole day immersing ourselves into aspects of the Chinese culture.
To start the day off, we had a go at Tai Chi, which Chinese children all do at the beginnings of their school day too.
Then we played some strategic Chinese maths games, that some children recognised as forerunners to chess!
After break, we cooked and ate healthy spring rolls-and invited the Fledglings to come in for a taste as well.
We all learned lots about China, and had a lot of fun too.
What Inspires us?: January 2017
Today, Woodpeckers had a very special visit from Mrs Wojciehowski. She had been invited into school to talk to us about how Jesus inspires her as a Christian. The children asked some very thoughtful and interesting questions, and listened exceptionally well whilst they were answered. Thank you Mrs Wojciehowski, for taking the time to speak to us.
Woodpeckers Mayan Feast: December 2016
To finish off our rainforest survival topic, Woodpeckers class prepared a feast, using all ingredients from the rainforest that the Mayan civilisation would also have used. We made guacamole using Guatamalan avocado, and salsa using chili and ripe tomatoes. We also enjoyed traditional Mexican tortilla chips and some pieces of delicious Brazilian chocolate. We washed our feast down with a delicious Mexican milkshake called 'horchata', using rice milk, cinnamon and sugar.
As well as learning more about the tastes of the rainforest, we used a number of important food technology skills, including safe knife handling, fine chopping and understanding flavour combinations.
Super Science: November 2016
The children in Woodpeckers have really enjoyed learning all about Animals and Humans during science this year. We have found out about digestion, different animal diets and their teeth, the importance of keeping teeth healthy and food chains/webs. Today we learned how animals are dependent on green plants, and each other, and created our very own food web!
Fantastic football: November 2016
Following on from our P.E focus of stability and object control in Tag Rugby, this half term we will be reinforcing these skills through football. The children were introduced to some of the basics today, but will move on to developing ball control, attack and defence skills, sending and receiving and awareness of the tactical game. We look forward to seeing their progress.
Rainforest Dioramas: October 2016
Woodpeckers spent a wonderful day creating dioramas as part of our Rainforest topic. We used lots of different Design and Technology skills, such as cutting, sticking, and creating 3D models, as well as using art skills with drawing and painting.
Year 4/5 Gymnastics Festival: April 2016
On Friday April 22nd, the Year 4 children from Woodpeckers, together with Year 5, travelled excitedly to Chantry school to take part in an afternoon of Gymnastics. On arrival, we were put into groups and were shown to our starting activities. There was a wide variety of skills demonstrated from forward rolls, to jumping on and over the vault. The amazing afternoon ended after a super demonstration of gymnastics skills from several Young leaders. They showed us what hard work and dedication could achieve. Well done to all those who took part.
Super trip to Selly Manor: April 2016
After having to postpone our trip due to the awful flooding a few weeks ago, Woodpeckers were very excited to finally be going to Selly Manor in Birmingham. We have been learning all about significant events that took place during the Tudor times, and wanted to find out more about what every day life was life for Tudor people.
The Sun was shining and the children were smiling as we met our guide Mary. She was brilliant at bringing history to life and was impressed by all our Tudor knowledge. We enjoyed a fascinating tour of the house, dressed up in Tudor armour and clothes, and played a variety of Tudor games. We all enjoyed our day, which ended with a visit to the shop. As usual, the children were a credit to Clifton and we all had a memorable day.
Year 3/4 Rounders Tournament: February 2016
On Thursday 4th February, 9 members of Woodpeckers took part in a wonderful afternoon of rounders! The games were fast and furious and we all had lots of fun. The team enjoyed taking turns as fielders and on posts, and there were lots of impressive catching and throwing skills demonstrated. Unfortunately they didn't win the cup, but were winners in our eyes for showing such enthusiasm and sporting behaviour. A special well done must go to Willow and Jonah who were talented spotted during the afternoon.
Young Voices: January 2016
This week, the children from Eagles and Woodpeckers class took part in a special concert to mark 20 years of Young Voices. It was a very long day, but we all thoroughly enjoyed singing our hearts out and dancing the night away. We are incredibly proud of the dedication and enthusiasm shown by the children, leading up to, and during the concert. They clearly gained a lot from the experience and we are sure they will have many happy memories of the day. Well done every one!
King Ramses II Treasure Hunt Challenge: October 2015
This week in maths, Woodpeckers class have enjoyed a variety of challenges which tested their knowledge of comparing and ordering numbers, place value, addition, subtraction and times tables. They worked hard to complete the challenges and earn amulets, in the hope of opening the treasure chest of goodies. As a class, they earned over 150 amulets and were all able to take home a half term treat. Well done Woodpeckers!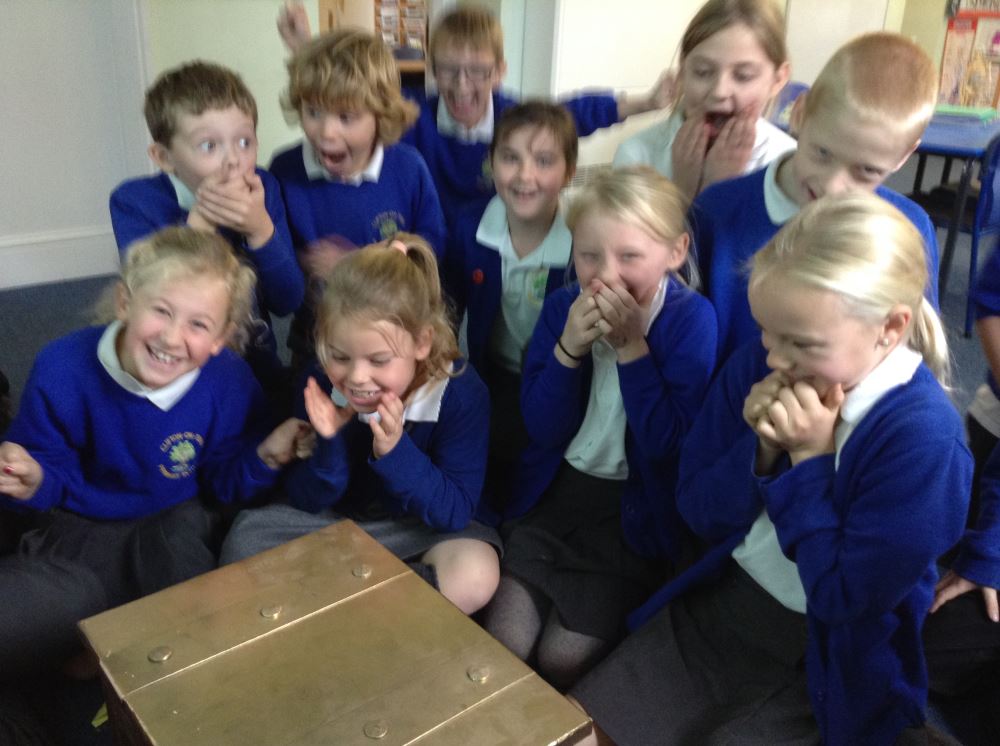 Worcester Warriors: October 2015
Woodpeckers Class have really enjoyed the opportunity to work with members of Worcester Warriors Rugby Club over the past half term, improving their rugby, but also their maths skills. They were very proud to receive their certificates this week.
Super Skeletons: October 2015
As part of our science topic 'Animals and Humans', we have been looking at the human skeleton and finding out why it is so important. We then used art straws to create our own animal skeletons, and went on to use the Skitch App to label them. Take a look at the photos below. Can you guess which animals the skeletons belong to?
Dance Festival: September 2015
Today, children from Woodpeckers enjoyed a fabulous afternoon of dance where they had the opportunity to master a variety of dance styles, including Bollywood, Street and cheerleading. As usual, our children were brilliantly behaved and it was a pleasure watching them overcome their shyness to share their routines at the end of the afternoon. Why not ask them to teach you a few moves?
Welcome to Woodpeckers: September 2015
It has been a pleasure getting to know our latest additions to Woodpeckers. They have shown that they are incredibly hard working and enthusiastic about their learning. The year 4 children have been setting a super example, and have helped them to settle in really well.
We have already learnt lots about the Ancient Egyptians, including Howard Carter and his amazing discoveries, mummification and all about the Egyptian gods. The children enjoyed making amulets, and then wrote detailed instructions so other children could enjoy making them too!