Robins
SUMMER TERM 2022
MONEY
In maths, we have been using coins to buy and sell to practise learning the value of coins. The Year 2s have also been working out how much change is needed:
SCIENCE- Plants
In Science, we are learning all about plants. We started by identifying wild and garden plants on our grounds:
Then we planted our own beans to study how they grow and to identify the parts of a plant:
Identifying trees
We have been using a key to identify trees by looking at their leaves and seeds:
GEOGRAPHY- Mapping
This term we have been busy learning all about maps. We started by following a map of our own school grounds, finding compass points and creating our own keys:
Then we went into the village to create our own maps:
SPRING TERM 2022
PSHE (Personal, Social, Heath, Economic Education)
We have been spending a lot of time this year enjoying our new 'Jigsaw' Curriculum involving circle time discussions and group work around a variety of topics. A really important part of these sessions is learning to calm our minds with some group meditation. Here we are using 'Paws' to practise taking a "pause" when things may get a little stressful!
DESIGN AND TECHNOLOGY- Making Trains
As part of our 'Pioneers' topic, we have been learning about George Stephenson and his steam train design. We were lucky enough to have a 'DT Expert' come and help us design our own trains:
STEAM INVESTIGATION
The next pioneer we have been learning about was George Stephenson, British engineer who designed the first passenger steam train. To understand more about the process of how steam engines work, we did an investigation with a simple steam boat:
RAF COSFORD trip!
To follow on from our study of flight last term, we were in a position to carry out our postponed trip to RAF Cosford. The children had a fantastic time, having not been on a trip for 2 years it was quite a novelty! We saw lots of planes, went on a flight simulator and then played in the flight themed play area: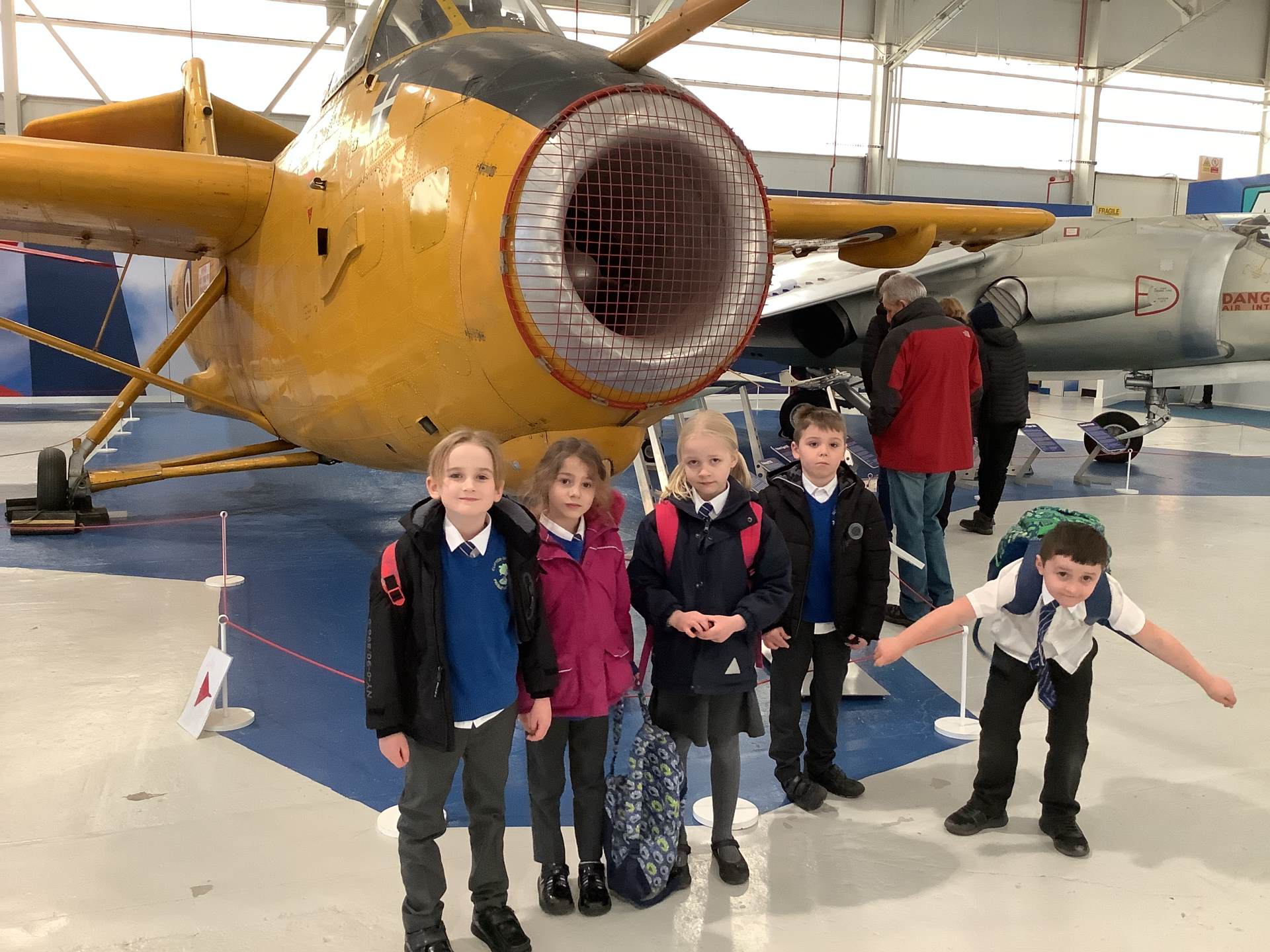 Making Space Cakes!
As we have been studying the first moon landing, we decided to make 'rock cakes' as part of our DT curriculum:
Neil Armstrong sends a message!
To Robins' delight, the time machine seemed to have been travelling over the weekend and had returned with a suitcase inside! We opened the suitcase and there were lots of clues to lead us to find out about the first lunar landing. Everyone was very excited!
This term we have launched off to the moon with our studies of 'The Man on the Moon'. Now we are moving to a historical slant, so we have created a time machine to find out all about the possibilities of time travel. This was a fantastic DT project with everyone participating and look what we made:
These are pictures of us in action designing and making the time machine! We realised that we needed to make a dial to find out which year we were travelling to!
AUTUMN TERM 2021
Christmas Festivities
In the lead up to Christmas, Robins have been enjoying lots of festive activities including reenacting the Christmas story: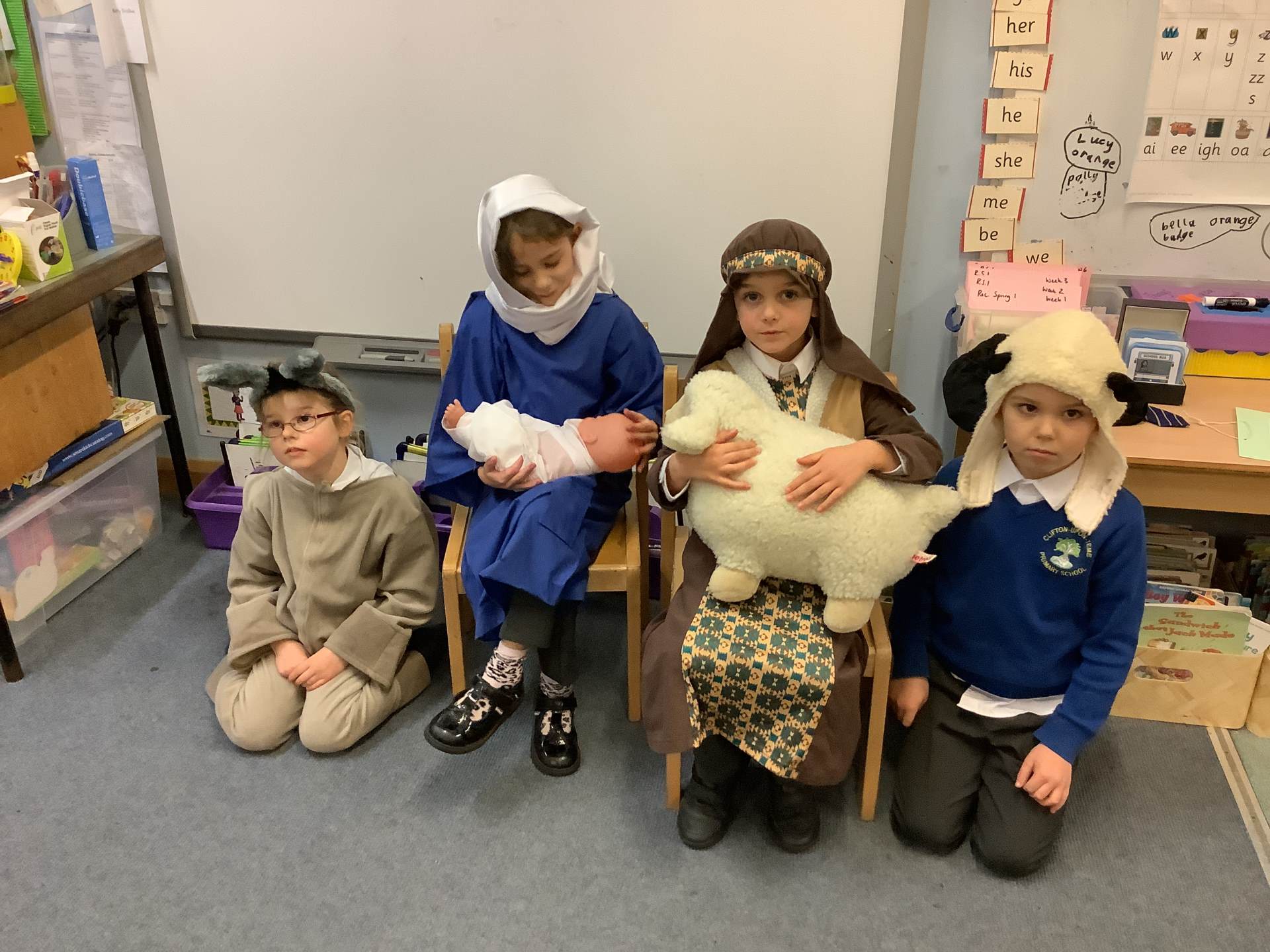 Flight
This half term we have been learning all about the history of flight. We have studied the Montgolfier first hot air balloon flight in Paris in 1783 and we have learnt lots about the Wright Brothers' first successful flight in the USA. In science, we have been investigating how hot air balloons fly and looking at forces of thrust and lift in aeroplanes. We have made some paper aeroplanes and carried out an investigation of how a helicopter flies:
We have also been looking at birds as part of our 'Animals including Humans' topic in science and discovered that a bird's wings do not simply flap up and down, but they actually 'rotate'! We made a model to help understand the movement:
Forest School
On Thursday afternoons, the children do 'Forest School' sessions with Mrs Williams. Please follow this link to find out what they have been getting up to!
The Blue Balloon!
We are kicking off our new 'Flight' topic by reading a book called 'The Blue Balloon'! Look what magically landed in a tree outside our classroom this week!
Design and Technology - Thumb pot animals
In DT this half term, we have been working on making thumb pots in clay and then joining them to make a clay animal. The children then decided to paint their animals, on some occasions with quite radical colour choices!:
Autumn Leaves
As part of our Science curriculum, we study the changing seasons and notice how they differ. We went outside to look at the way the leaves change colour in autumn and were inspired to do some leaf art as a result: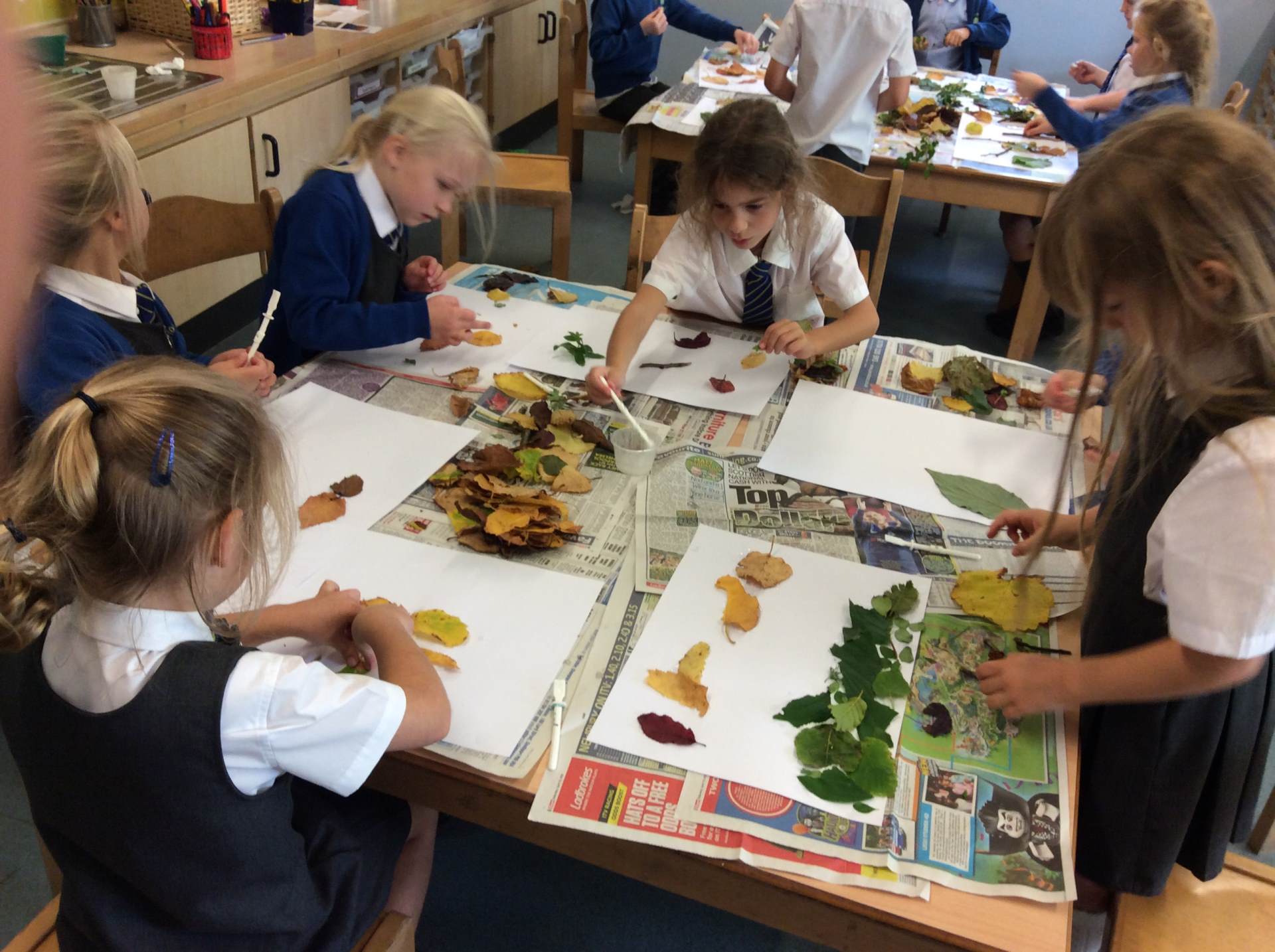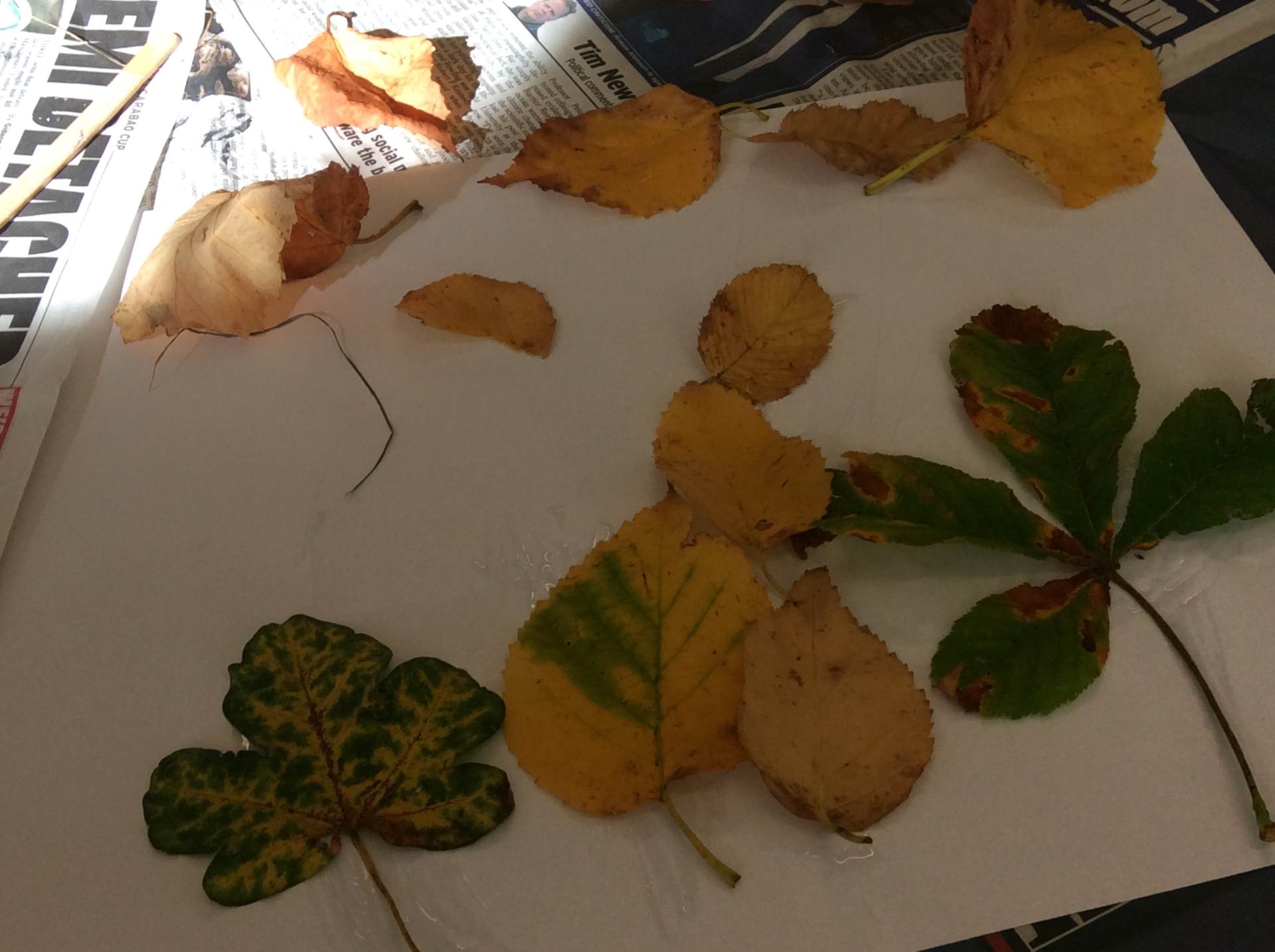 Reward for good behaviour!
As a reward for following our own agreed class rules and for collective great attitudes and behaviour, the children decided they wanted to reenact the 'Pants War' from the book we read at the beginning of term- 'Dinosaurs Love Underpants'! As these pictures show, a great deal of fun was had:
The Jolly Postman
We have been studying the fantastic book 'The Jolly Postman' which takes us on a journey through several fairytale settings and is told through letters. We started off by playing 'Post Offices'
Then we started to look at the story of Goldilocks and the 3 bears. Obviously we had to make some porridge:
And we explored the story in different ways:
Science - Animals Including Humans
We have launched our new school year by looking at dinosaurs, but we thought we ought to look at our own bodies to find out the names of all the body parts so that we could describe them!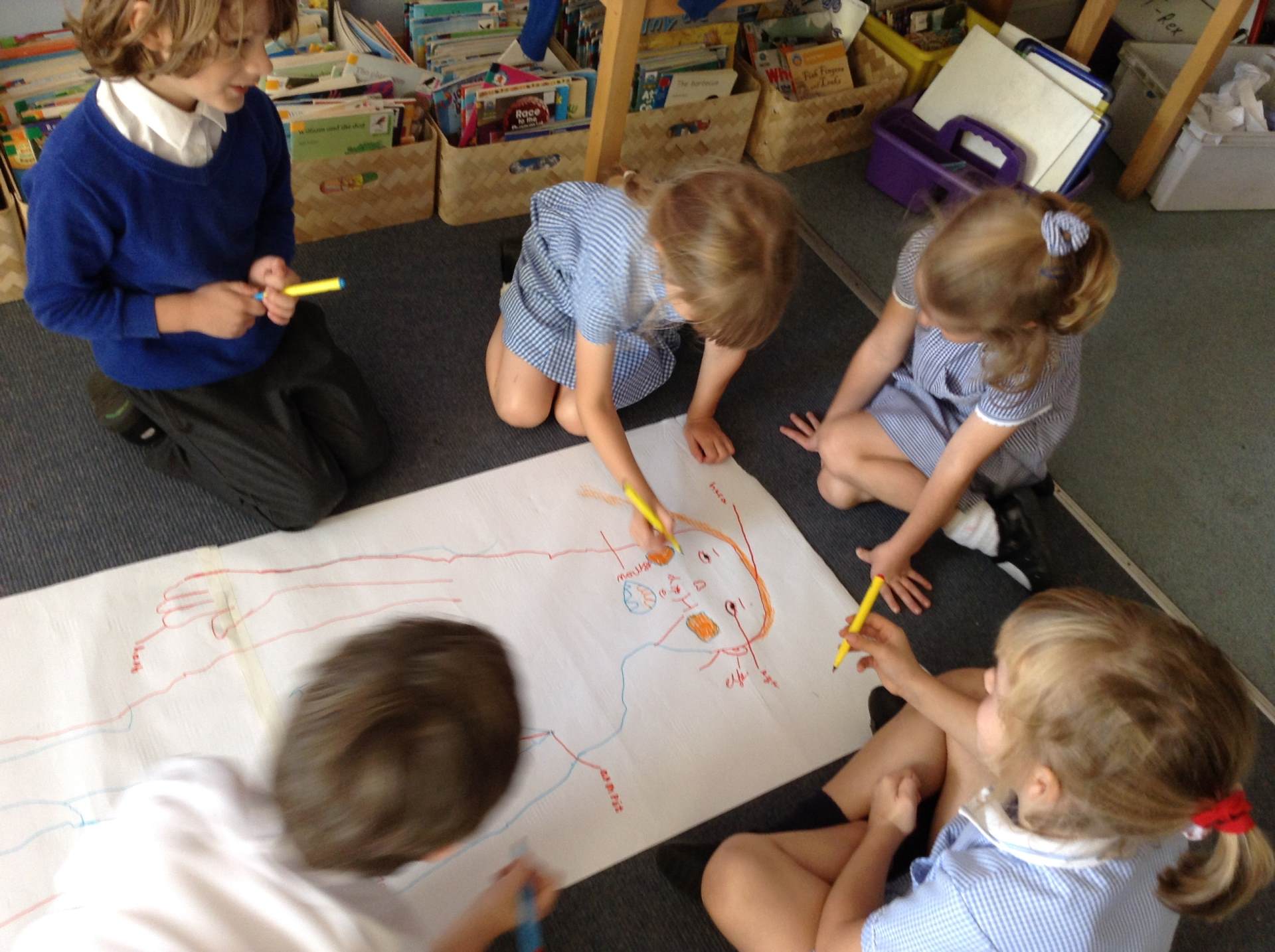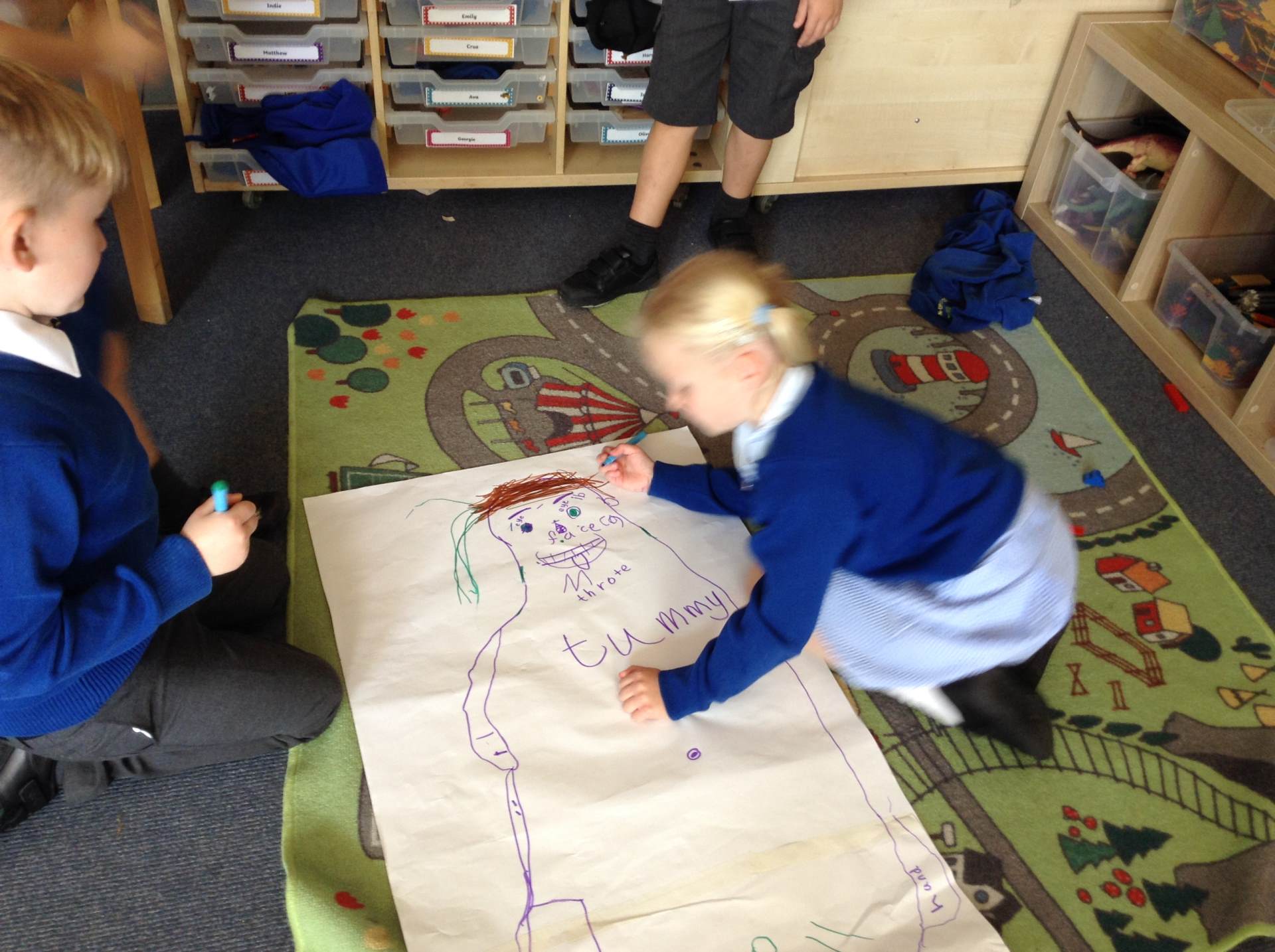 We also thought it was important to find out when our birthdays were:
SPRING 2021
India
We have launched our new topic of India, but first of all, we needed to introduce mapping and make sure we were familiar with all the countries, capitals and seas surrounding the UK. We made some texture maps to help us explore the features of our geography:
Then we launched into our India studies with a lovely Indian Banquet! We were so impressed by the children's willingness to taste everything and mostly they absolutely loved the food! We had samosas, pakoras, popadoms, bombay potatoes, dal and raita!
Rangoli
Inspired by Indian Rangoli art, we created some of our own work outside using lentils, rice, flour, chalk, beans, leave and petals: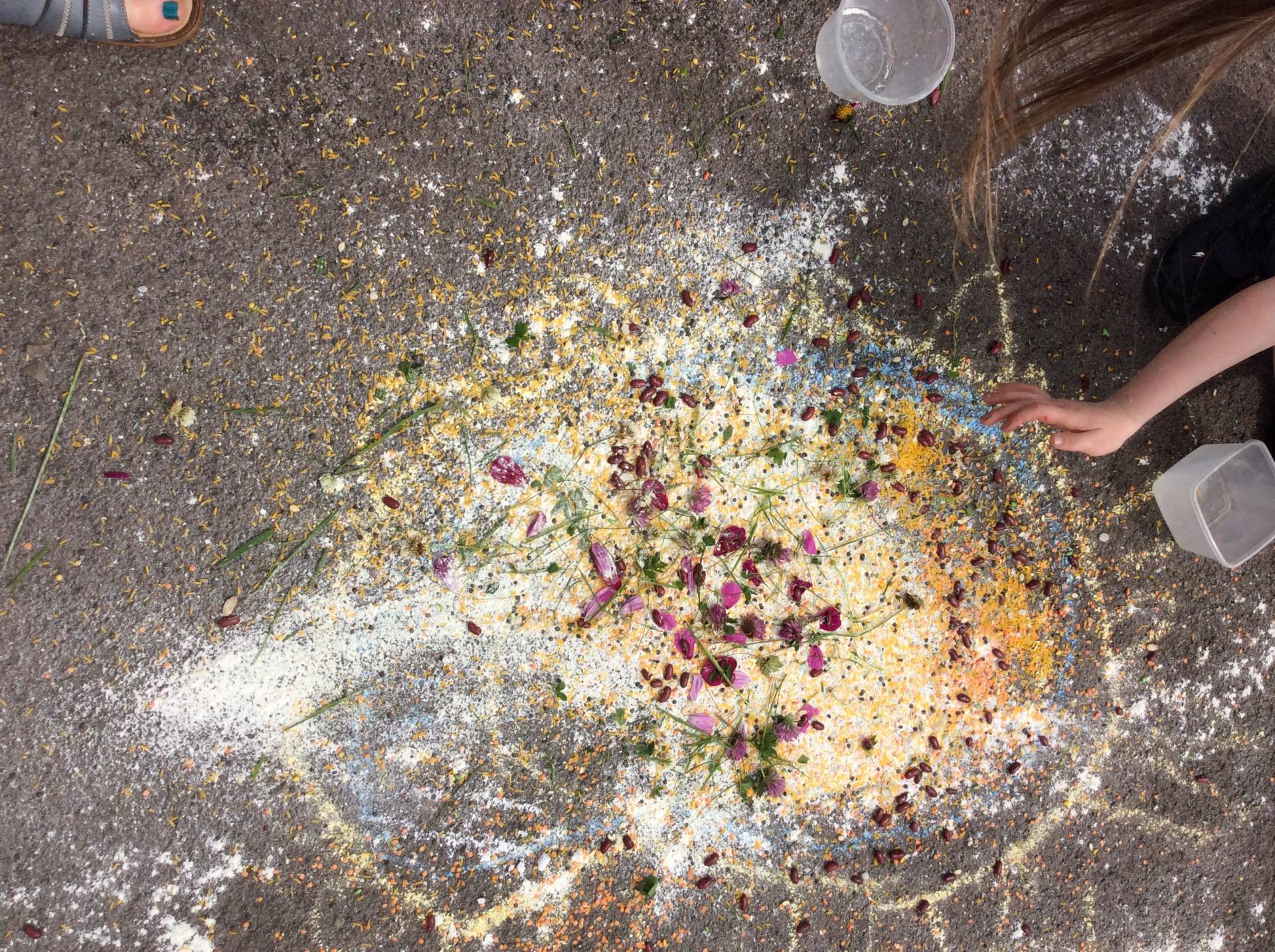 Skipping
This week, we were lucky enough to have a workshop with 'Dan the Skipping Man'. Every single child was successful in their skipping and we all have our skipping ropes now to practise every playtime if we want. It was really good fun!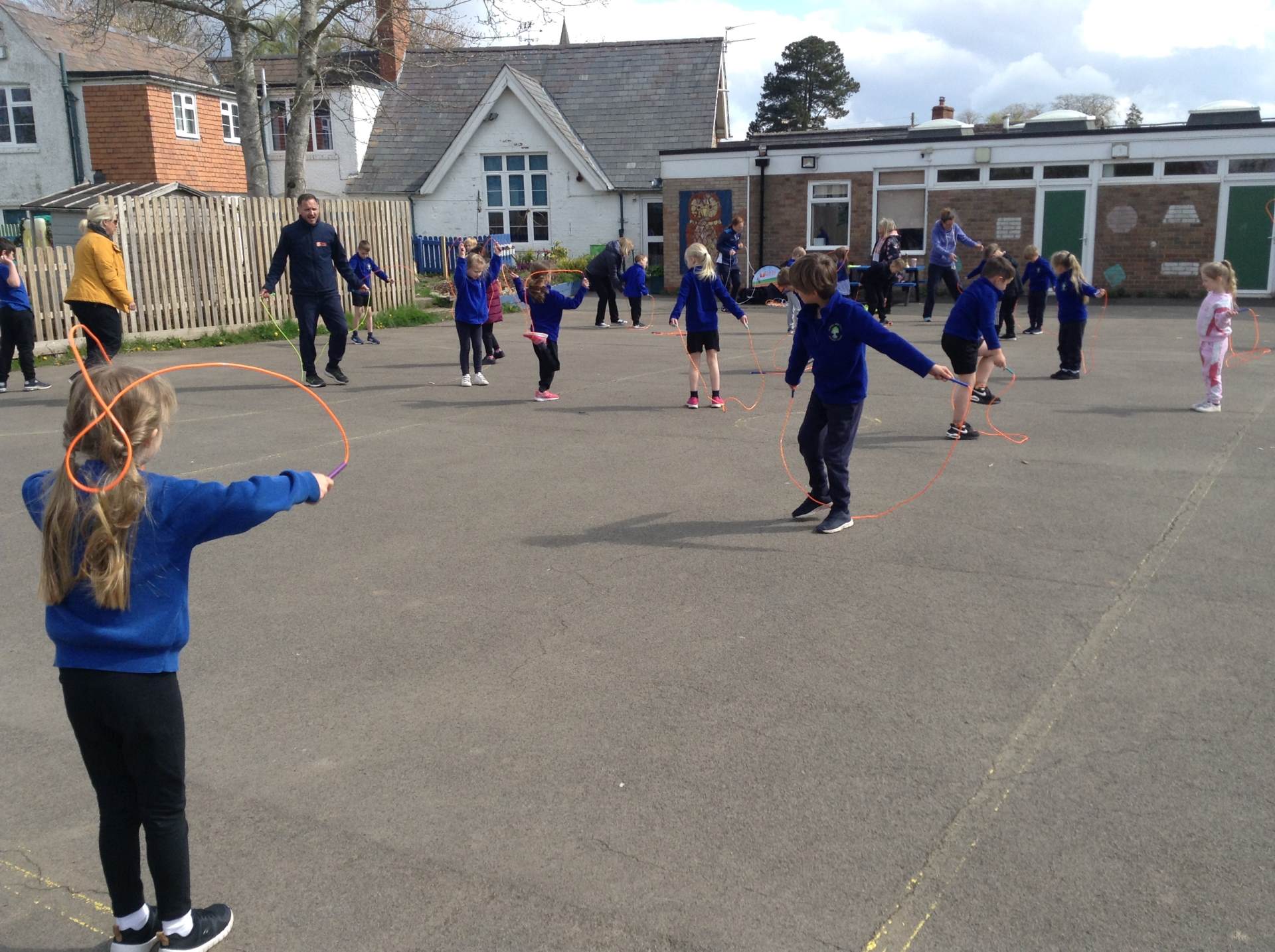 WONDER WOMEN
Suffragettes
This week we have been learning all about the very important protests by the suffragettes and the children have loved learning about Emmeline Pankhurst and Emily Davidson who fought so hard to gain the right to vote for women. Here we are reenacting their marches and imprisonent:
Florence Nightingale
This week we have been learning all about Florence Nightingale and have set up a museum to show everything we have found out. We were lucky enough to borrow lots of artefacts from Florence's life and wrote entries for the museum to explain what they were for. We even had some visitors come and see our Museum:
We have now launched into our new topic about women who have had an impact on the world in some way. We made a royal start with learning about Queen Elizabeth 1. We have been writing about her using ICT to make charts on laptops and also making very artistic decorative collage pictures: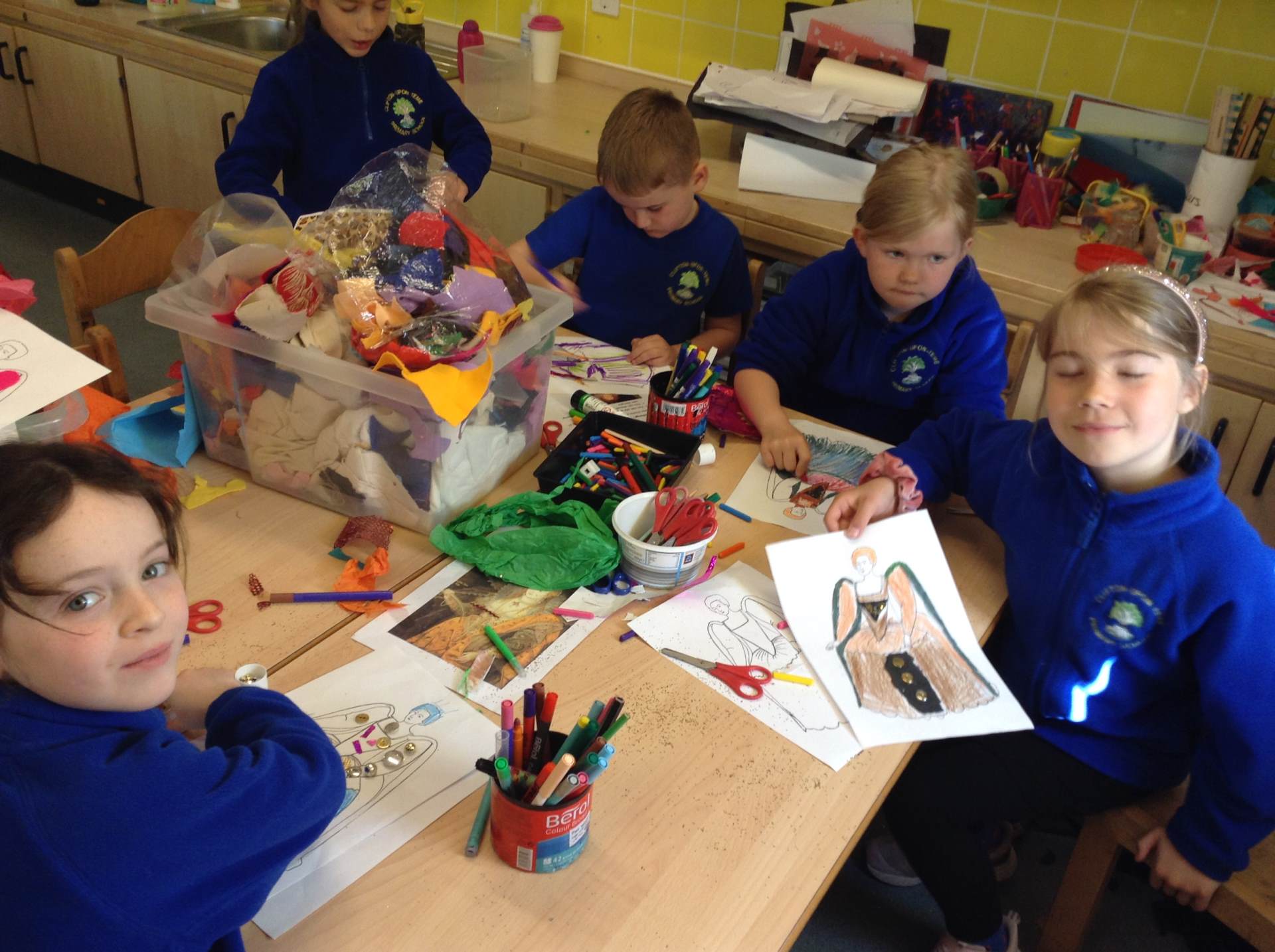 We have also been designing boxes to keep our historical item in:
Meerkat Mail
After yet another long period of lockdown, the children have returned to school with great enthusiasm and we have consolidated home learning by studying a book called 'Meerkat Mail'.
We have been designing houses for Sunny the Meerkat:
Then experimenting with mixing colours to different hues and tones to match our different habitiats:
And also creating desert habitats wtih sand:
Autumn 2020
Big Burning
With our DT project complete and the houses all ready, we put all that we have learnt over this half term into practice with our re-enactment of the Fire of London:
Design and Technology
As part of our topic, the children have been planning and designing some Tudor style houses to make in order to 'reconstruct' the Great Fire of London. They are very excited to have reached the construction stage and are working hard to support each other to problem solve and improve their models. Watch this space for the 'Big Burning'.........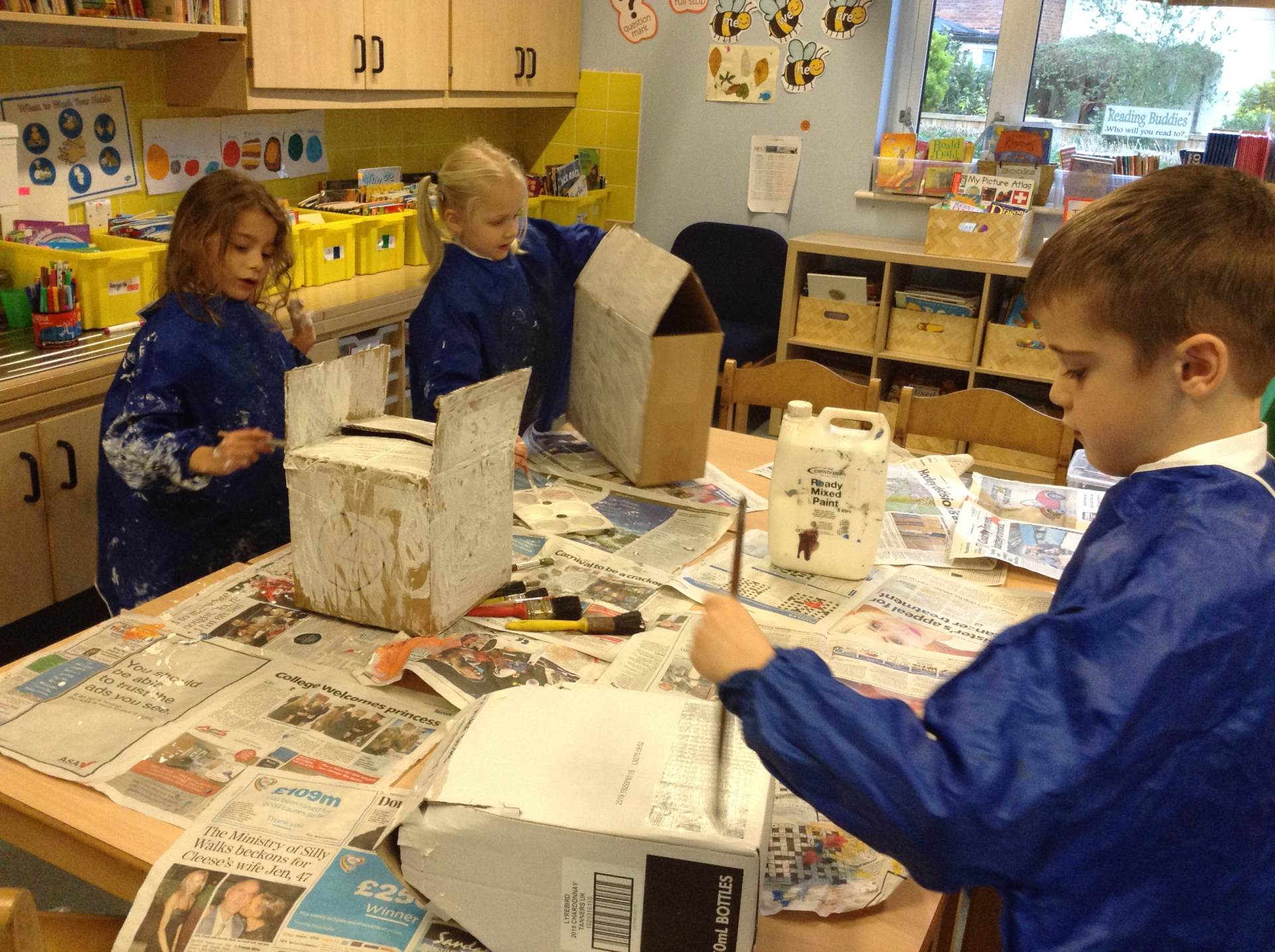 The Great Fire of London
We launched our new topic with the exciting discovery of some pieces of Samuel Pepys' diary which we examined very carefully as it is very old. This gave us lots of clues about the Fire, but we are busy examining different types of evidence to find out more!
Art- Pastel study
Inspired by our study of The Great Fire of London, the children have been exploring the medium of pastels to convey the fire with some dramatic effects:
Art - Autumn Leaves
This week we have been using nature to inspire us by appreciating all the beautiful colours of the leaves in autumn. We have been exploring how to make colours by mixing and also how to adjust the hues of colours by making them lighter and darker.
Art- Shoe study
We started our art work by practising observational line drawings, experimenting with different types of pencil. We did a study of our own shoes:
Science - Animals Including Humans
We have started our Science topic 'Animals Including Humans', kicking off with labelling human body parts. In tandem with this, we have also been talking 'PANTS' by highlighting the importance of some body parts remaining private, using the NSPCC's famous 'Pantosaurus' song:
Beegu
The class have absolutely immersed themselves in this lovely book about a little alien who lands on Earth by a mistake. Our activities have included lots of writing but also making a friend for Beegu and some fun roleplay:
Science- Eggsperimenting!
We have been really enjoying some investigating this term including finding out what happens to an egg when it is left in vinegar for a week:
Welcome back to our new term following a very long time away from the classroom! We have launched back to school very enthusiastically beginning with studying Julia Donaldson's beautiful book 'Paper Dolls'. This has involved lots of art including making our own paper dolls and puppets.