Brilliant Bishops Wood: July 2021
Today Woodpeckers class enjoyed their first trip in a very long time! We spent the day reinforcing all our learning about the Stone-age by being 'experimental archeologists' and discovering what it would have been like to live in this exciting period in history.
Our guide was Steven, and he started the day by finding out what we already knew. I think we really impressed him with all the things we remembered about our learning. The morning was spent hunting and gathering, weaving fences, grinding flour and knotting nets. We also had a go at creating sparks to make a fire; it was so much fun.
During the afternoon, we discovered what it would be like to be nomads, and went in search of a new hunting ground. We had to design a frame which would carry all our belongings, and then work together to make a Stone-age shelter. It was incredible to see the different ideas used to make the shelters, and after testing them, we decided they would all withstand the cold wind. What a great day!
Marvellous Maths: July 2021
Over recent weeks we have been investigating 2-D and 3-D shapes. Today in maths, we constructed our own 3-D shapes using tooth picks and Blu-Tak to help us identify the number of faces, vertices and edges. Then we had to show our mathematical reasoning by explaining whether we could use tooth picks and Blu-Tak to construct a sphere or a cylinder. What do you think?
Terrific Tag Rugby: June 2021
Woodpeckers have been extremely lucky to have taken part in so many different sporting activities over the past few months. This week we were visited by Dave, a Worcester Warrior Coach who introduced us to Tag rugby which we have all really enjoyed. So far we have learnt how to throw and catch the ball correctly, which is not easy because of its strange shape, and also how we can tag someone who is carrying the ball. We are all looking forward to next week where we hope to put our skills to the test in some small group games. Well done Woodpeckers. Fantastic skills and super sportsmanship demonstrated!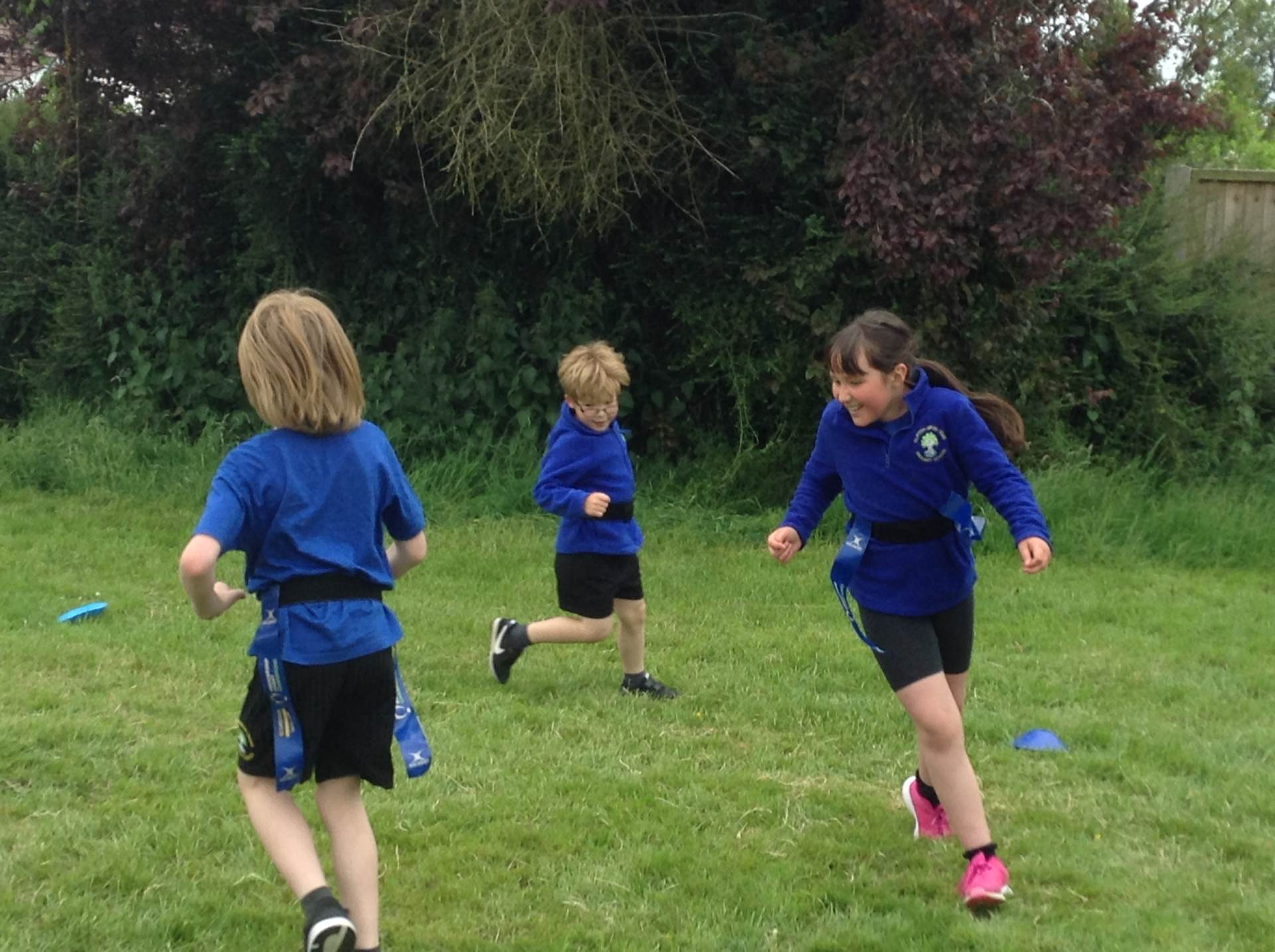 Stone Age clay Jewellery: May 2021
As part of our Stone Age topic, we have been learning about how people long ago initially were simply focussed on survival, but as time went on and they became more civilised, they took a keener interest in their appearances and started making jewellery from bones, teeth and stones. Having researched Stone Age jewellery artefacts, Woodpeckers then made their own from clay. Once they had dried, the children used acrylic paints in colours which Stone Age people used (but had to make themselves). Once they had dried again, we strung them onto wool (having learned that Stone Age people made their own string from nettles!) and finally knotted them to make necklaces. This project required several skills, some very fiddly, and gave us a greater knowledge and understanding of how laborious and time consuming the process would have been long ago. Well done Woodpeckers!
Power Project: May 2021
Here is the Woodpecker Power project for this term. The expectation is that they bring in two pieces of high quality work by the end of the Summer term.
We are looking forward to seeing their amazing creations.
Many thanks
Mrs Quill.
Click on the picture to access the Power project.
Brilliant Bike-ability: May 2021
This week children in Year 4 had the opportunity to take part in Bike-ability to ensure that they are safe on the roads. They had to listen to instructions very carefully and show the instructor how well they could control their bikes. We are very proud of how well they behaved and were very impressed with their riding skills. Well done Year 4!
Super skipping: April 2021
Today we had a very special visitor called Dan who came to help us improve our fitness through skipping. We started off with the basics, before being introduced to some more challenging skipping activities. We were all given our very own skipping rope which we will keep in school so that we can practice our skills and develop our fitness on a regular basis. It was lovely to see how much we all improved in one short session. Well done Woodpeckers!
Fantastic fencing!: April 2021
This week saw the return of Mr Owens, but this time, we had the opportunity to develop our fencing skills. We started with a fun warm-up before learning the basic rules and steps. We ended the session by putting on some protective equipment and competing in some mini-duals, which helped us develop our skills but were also lots of fun. We are looking forward to next week!
Amazing Archery: March 2021
Over the past couple of weeks Woodpeckers have been developing a new and exciting range of skills in our archery lessons with Mr Owens. We very quickly learnt to hold the bow and arrows correctly, then practiced our aim by standing in the correct position. It took some of us a while to hit the target, but the progress after only one lesson was fantastic. We all enjoyed some archery golf and target practice which really allowed us to perfect our skills. We are now looking forward to fencing after the Easter holiday!
Archery lessons always begin with a fun warm-up.
Then we practice the skills...
Then we apply the skills...
Super Science: March 2021
In science this half term we have been looking at Light. Today we enjoyed experimenting with mirrors and created mazes for each other where we had to use mirrors to follow the chalk line. It was trickier than it looked, but we learnt a lot about how mirrors work and how light travels so we can see things.
Spring term 2 Power Projects
Some children have misplaced their paper copies of this term's Power Projects, which were handed out last week. Rather than wasting paper and printing out more copies I have uploaded the PDF of the project below. Please support your child in bringing in one piece of high quality work by Wednesday 31st March. Many thanks, Mrs Quill.
/docs/a_a_a_maths_010221/Lesson_1b_-_Britain_from_the_Air__3__doc.pdf
Rainforest DT dioramas: December 2020
This half term Woodpeckers class have been building their own rainforest dioramas. They started by taping shoeboxes open, then stuck coloured paper over the outside to cover the original colour. Then they painted the inside of the shoeboxes and used toilet roll holders to make trees. After that they added texture and detail using recycled materials, and tea lights to make camp fires. They then created pulleys and finished off with a push and pull mechanism using dowelling and cardboard animals or vines. The results are quite spectacular! We are very proud of how hard Woodpeckers worked on this project, and all the design skills they used to make their dioramas such a success. Well done Woodpeckers!
Super science: November 2020
This half term, our science topic has been 'Animals and humans' which has involved us looking at the amazing process of digestion. We discovered that our mouth is the first step in a long food journey and looked closely at how how teeth help start the process. We used mirrors to help us look closely at our own teeth, and made models out of plasticine, then used the Skitch App to help label them. We then found out out how we can keep our teeth healthy and designed posters to inform younger children.
We also designed an experiment to find out which liquid did the most damage to eggshells (our teeth). Vinegar and orange juice caused the most damage, and by looking at our results, we decided we should all drink more milk and water as these caused the least amount of damage.
Mindfulness Craft: November 2020
On our first day as a new class, Woodpeckers engaged in two craft activities based around mindfulness and how to deal with worry and anxiety. We started by making dream catchers, which used several DT and fine motor skills, particularly when creating the 'web'. We then stuck them on the classroom windows, to help keep any bad thoughts out and only let good thoughts in!
After break, we made mindfulness worry jars, both to help us focus and relax when looking at the beautiful sequins and bubbles inside and to represent how our minds can sometimes feel busy and chaotic, and how important it is to find strategies to help us settle and calm down- for example, by looking at the worry jars themselves!
All the children focussed well and tried very hard. It really was a wonderful way to welcome the new year 3s to their new class. Well done everyone!
Power Project: Extreme Survival: November 2020
Below is a PDF copy of the children's Power Project homework for this half term, of which they brought a paper copy home today (02.11.20). Please ensure the children bring in 2 pieces of homework by the end of term.
Class newsletter: November 2020
Dragon nature documentaries: October 2020
This week we finished our unit of work on dragons by writing our very own nature documentaries. We were inspired by David Attenborough, and worked really hard in groups to write our own paragraphs which contributed to a class documentary. After reading the children's work, I really think that Sir Attenborough has some serious competition! Well done Woodpeckers!
Click on the picture to read our amazing dragon documentary.
Hockey Challenge: October 2020
Whilst the Year 5 children have been fencing, the Year 4 children have been developing their hockey skills by taking part in the Worcestershire West Virtual Hockey School Games Competition. They worked hard over several weeks to develop their passing, dribbling and accuracy by trying out timed challenges. It was amazing to see the improvement over the weeks and everyone was able to beat their own records. Well done Year 4.
Fabulous Fencing: October 2020
This week Year 5 children had the amazing opportunity to learn some new skills in PE. They were really excited to meet Conner and John who introduced them to fencing, and after quickly learning the basics, they soon rose to the challenge of competing with their own foils. It was very clear that we already have some very talented fencers and I look forward to seeing their progress after their next session.
Well done Year 5.
Global learning Pen pal project: September 2020
After our long time away from school, we are delighted to be picking up where we left off with our pen pals in South Africa! We thought we would send our friends posters of ourselves wearing face masks, with our memories of lockdown in bubbles all around us, with, of course, the obligatory rainbow background.
It is a real pleasure to be back in touch with our friends in South Africa, and we really enjoyed the mindfulness of reflecting on our memories of lockdown to create our posters.
Marvellous Morse Code: September 2020
Woodpeckers had lots of fun creating sequences of movement to send secret messages using Morse Code. It was tricky to start with but we soon became more familiar with the order of dashes and dots used to create different letters which helped us to identify the words. There were some amazing code-crackers in the class!
PSHE: September 2020
During our first couple of weeks back, we have been discussing the events of the last six months and how each and everyone of us has had a very unique experience. We have been using the book 'Here We Are: Notes for living on Planet Earth by Oliver Jeffers to support the children's emotional well being and help them to re-connect with each other and re-engage with school life. We started by thinking of our special places, somewhere we feel safe and secure. The children wrote some lovely poetry to express their ideas.
By Esme